10+ Best & Free Notion Startup Templates
Embarking on a startup journey is both exciting and challenging. With countless tasks to manage, ideas to organize, and goals to achieve, staying on top of things can become overwhelming. Thankfully, Notion, the versatile all-in-one workspace, comes to the rescue with a range of powerful and free startup templates that can transform chaos into streamlined operations. In this article, we'll explore a handpicked selection of the best Notion startup templates that cover everything from project management to team collaboration and beyond. Whether you're a solo entrepreneur or leading a budding startup team, these templates are designed to enhance productivity, foster innovation, and help you take your startup to the next level.
Are you tired of juggling multiple tools for different aspects of your startup?
Looking for a single solution to streamline project management, team collaboration, and more?
Curious about how Notion's startup templates can help you stay organized and focused?
Want to know how other startups have benefited from using these free Notion templates?
Ready to simplify your startup operations and create a more efficient workflow?
You can find all the free and paid Notion templates you need in your business & startup here.
Here's a curated list of some of the best free Notion startup templates to help you manage various aspects of your startup journey: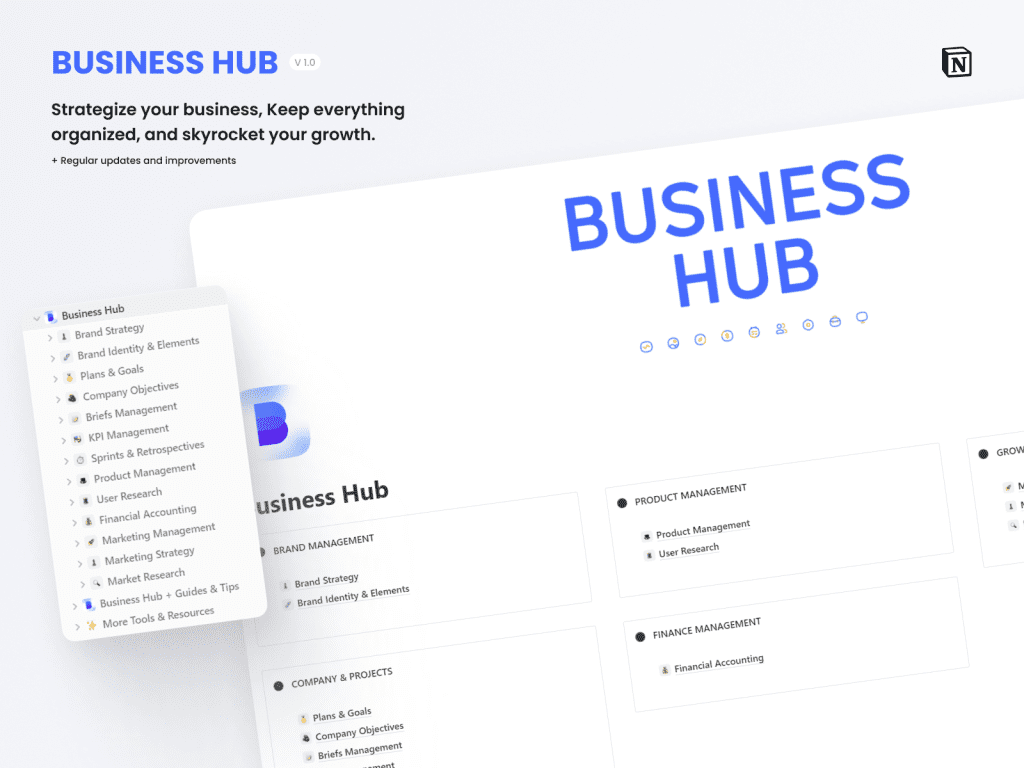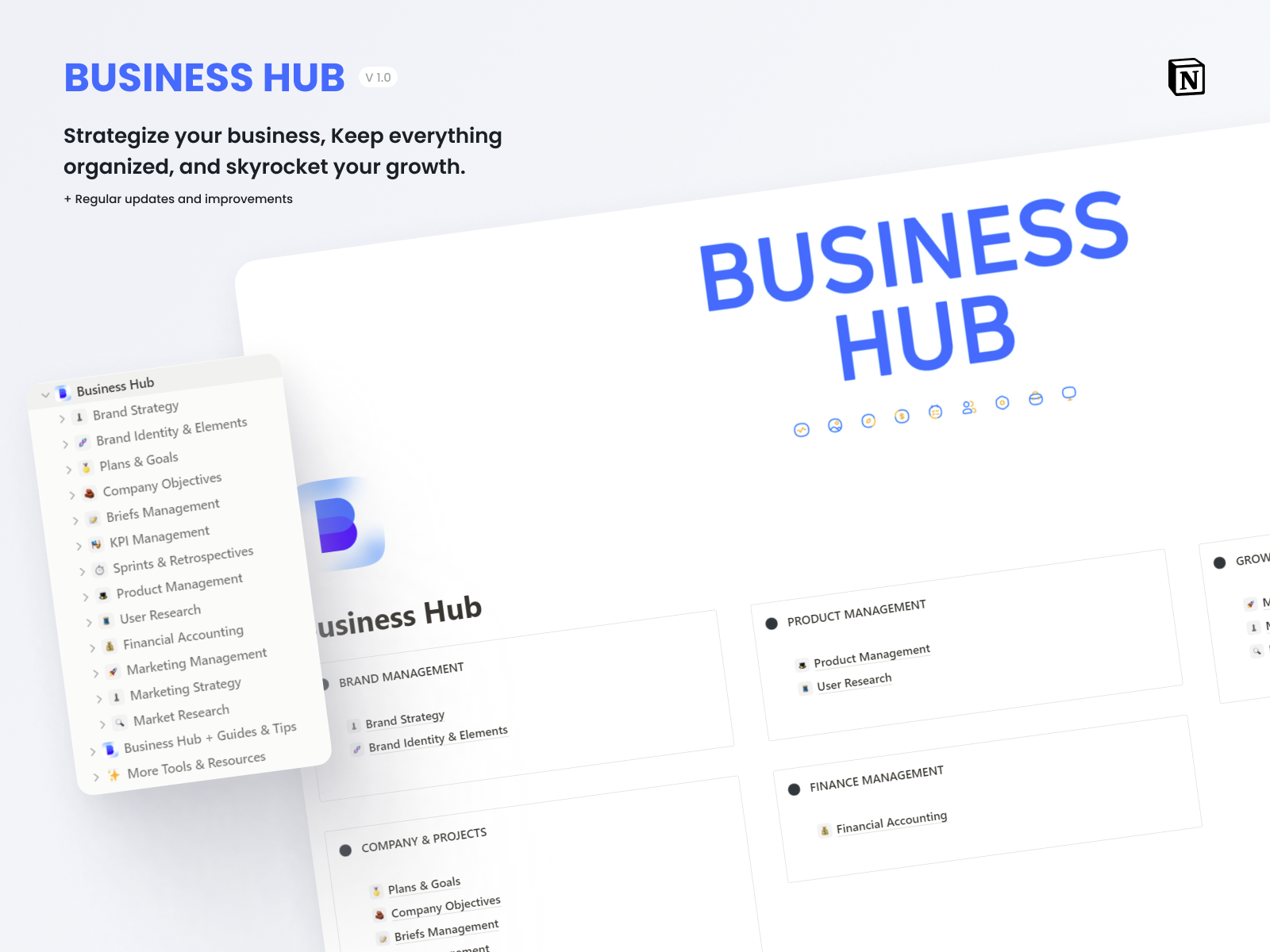 Your All-in-One Workspace for Business Success.
Your Business Hub, ENTIRELY in Notion. Tired of cobbling together multiple apps to form your Business? Me too. Business Hub lets you capture and organize everything inside of Notion – turning it into an all-in-one workspace.
What's Inside:
Brand strategy dashboard
Brand Identity dashboard
Product management dashboard
User research dashboard
Marketing dashboard
Marketing strategy dashboard
Market research dashboard
Plans & Goals dashboard
Company objectives dashboard
Briefs management dashboard
KPI management dashboard
Sprints & Retrospective dashboard
Financial accounting dashboard
Tips, guides, and articles to help you get started.
SalesPro Suite – Notion Sales Dashboard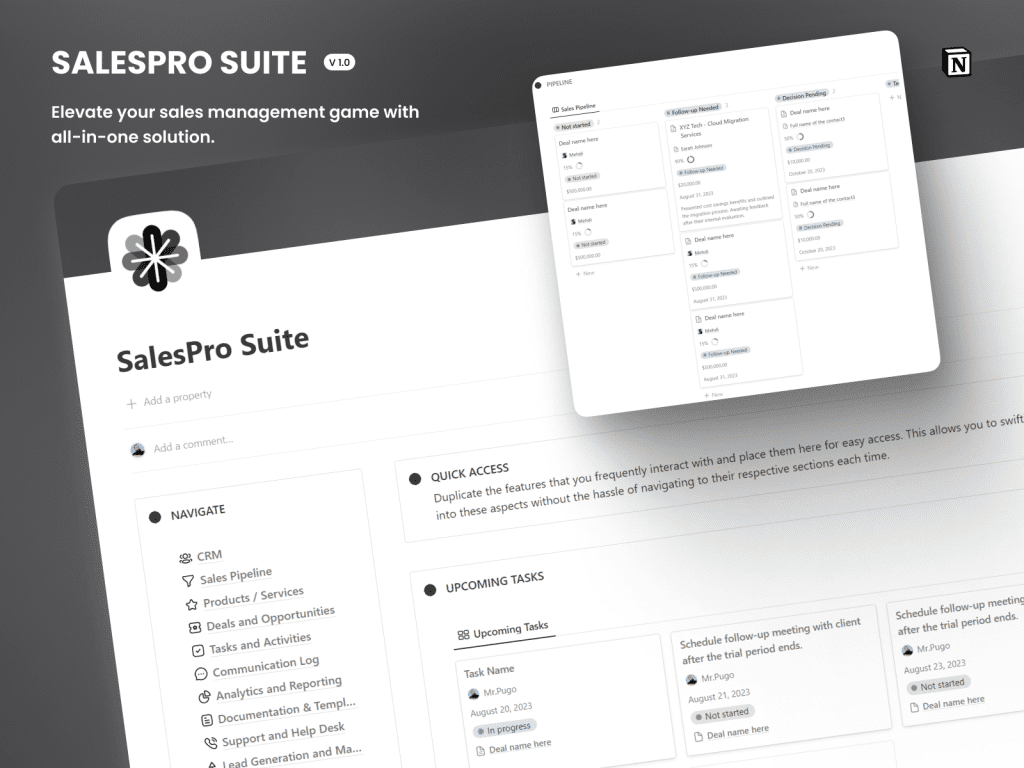 What's Inside – Features that Elevate Your Sales Game
Lead Management
Clients & CRM
Sales Pipeline & Pipeline Visualization
Deals & Opportunities
Task and Activity Management
Communication Log
Analytics and Reporting
Support and Help Desk Integration
Sales Notes and Documentation
Customization: Tailor your dashboard with custom properties, filters, and views. Integrate with external tools and databases to fit your unique business needs.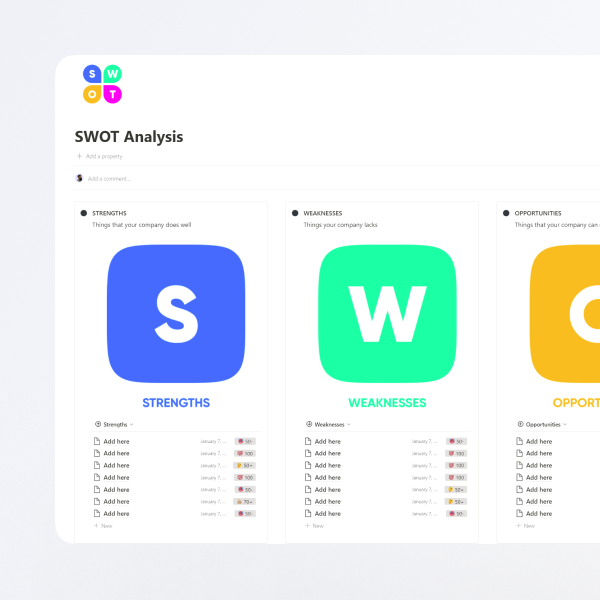 A SWOT analysis is designed for strategic thinking: It's to help you understand where your business is and where you need to go next. Use this SWOT analysis Notion template when you're considering the big picture, like how to best launch a product, what features would best serve your customers, or how you can find new clients.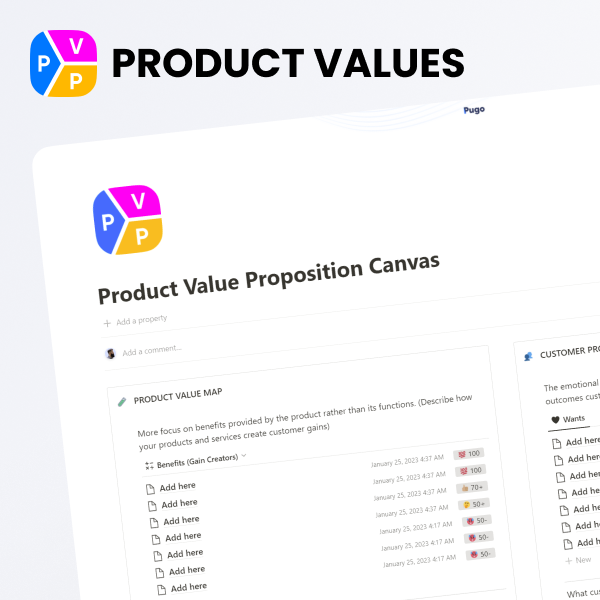 If you really care about your customers and really want to understand them, then the value proposition canvas for Notion is a tool that will transform how you innovate and market your business.
Understanding why customers buy is at the heart of the value proposition canvas.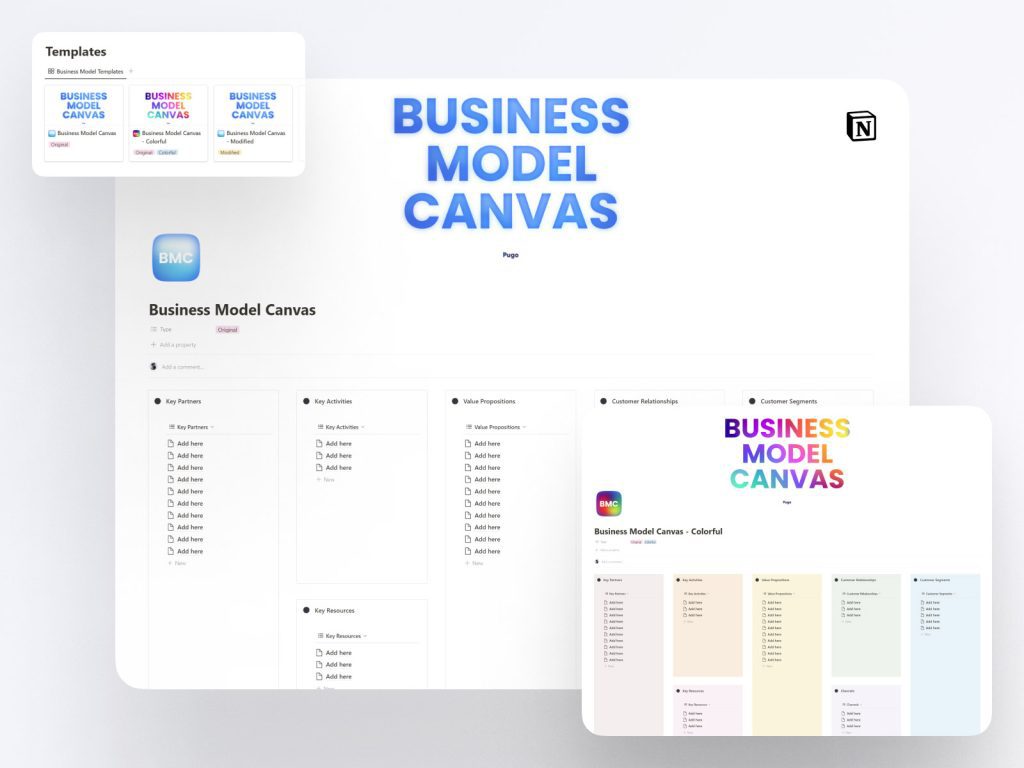 The Business Model Canvas Notion Template splits a business model into 9 areas and invites you to brainstorm how your business will capitalize on each. Whether you're starting up a new business or trying to understand an existing one, the Business Model Canvas will help you map it out.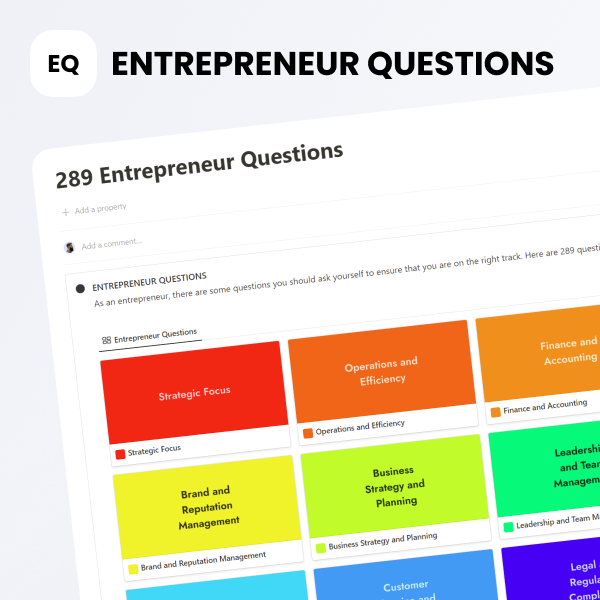 As an entrepreneur, it can be challenging to keep up with the fast-paced and ever-changing business landscape. To stay ahead of the curve, it's crucial to constantly innovate, adapt, and seek out new opportunities. With this in mind, we've compiled a list of 289 impactful questions to help you optimize and improve your business.
Startup in a Box Notion Templates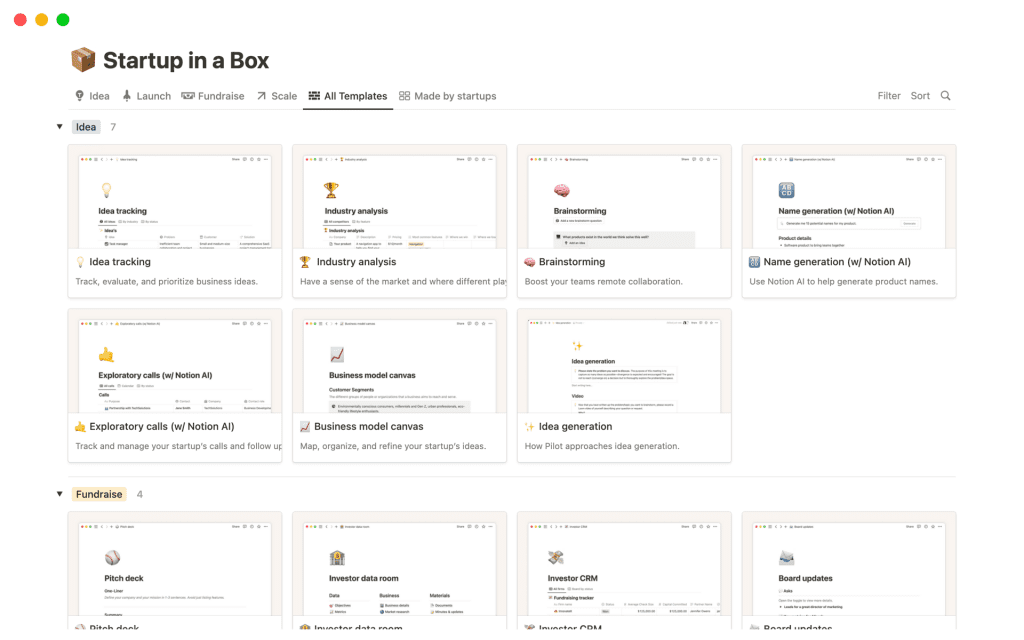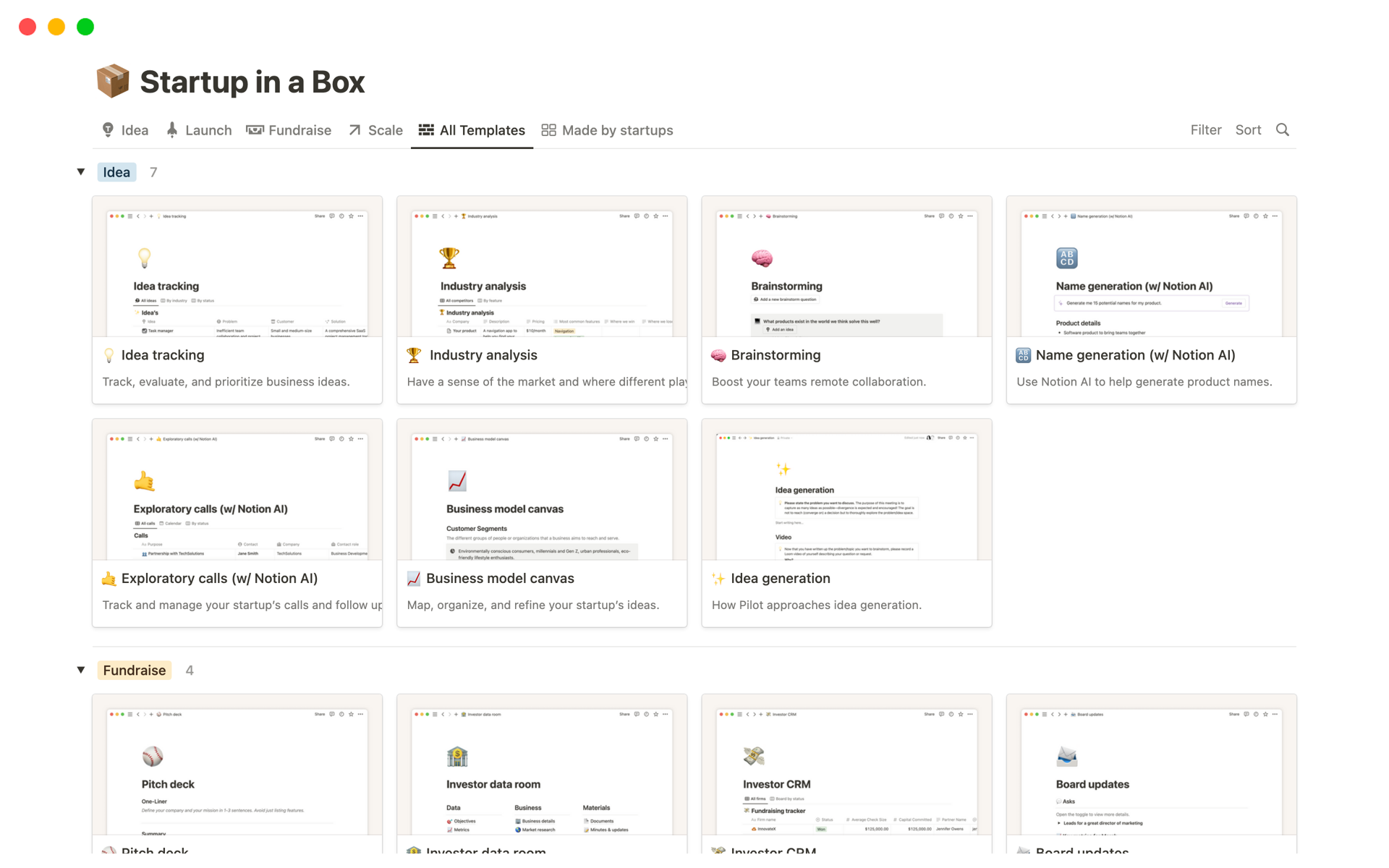 Startup in a box contains everything you need to get started on Notion. It's a collection of real Notion pages that helps you build and operate your company from ideation to scale. Spanning multiple use cases, the templates are organized by relevant stages of a founder's journey so you can quickly find what's most relevant for you.
Free Startup Brand Workbook for Notion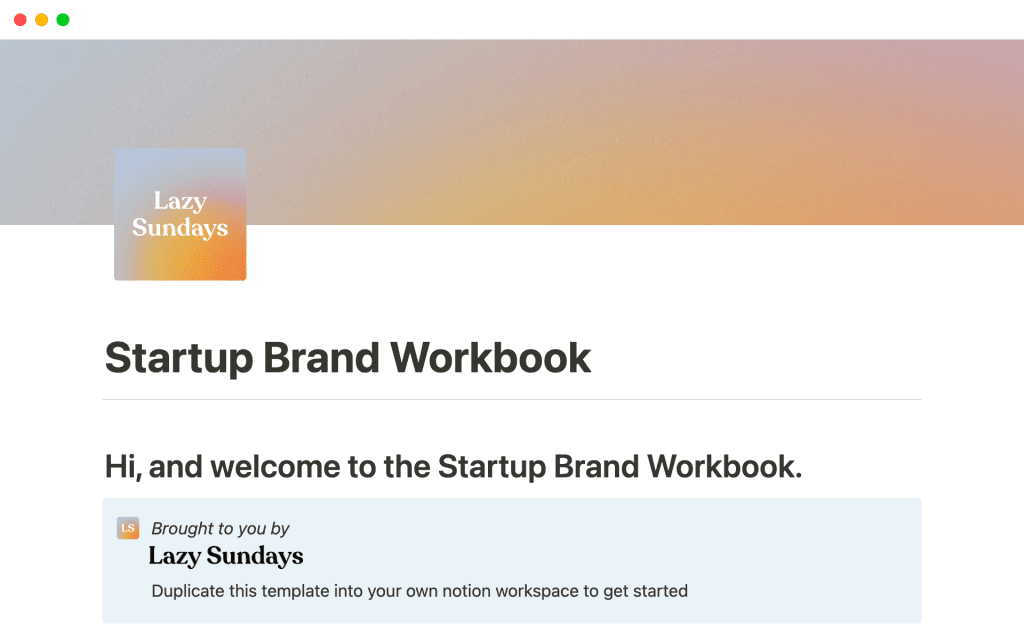 By the end of this notion template, you'll have created a super actionable brand strategy, covering all the essential elements needed to truly stand out from the crowd.
Free Startup Ops Hub for Notion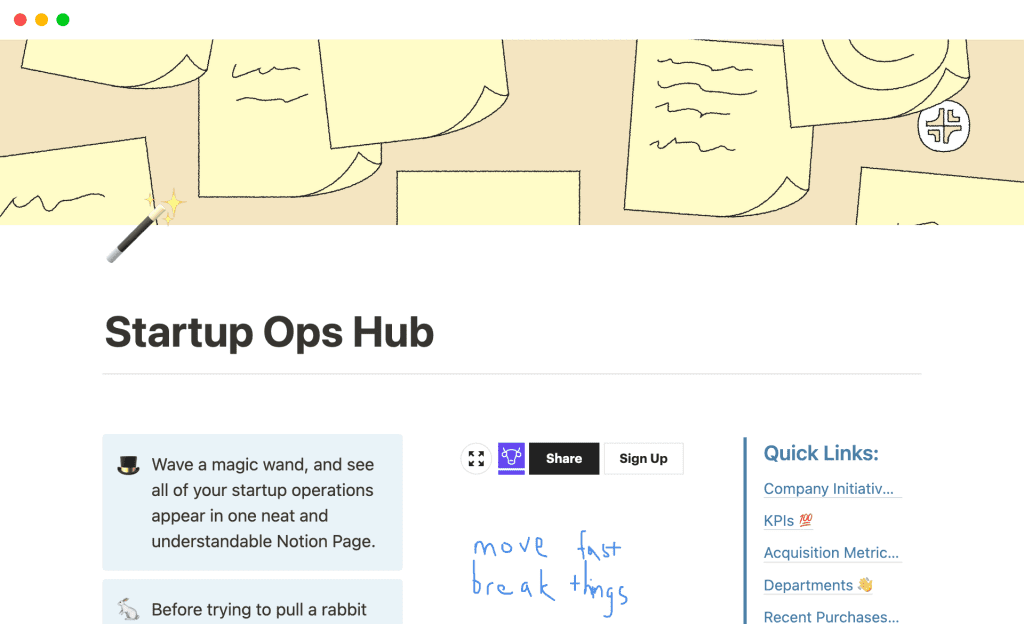 Startup Ops Hub lets you:
* Create an all-in-one view of your company initiatives for everyone on your team
* Track KPIs, runway, and important business metrics across all of your SaaS tools
* Organize department level project plans and financials
* Manage all of your company docs in one place
Free Startup team wiki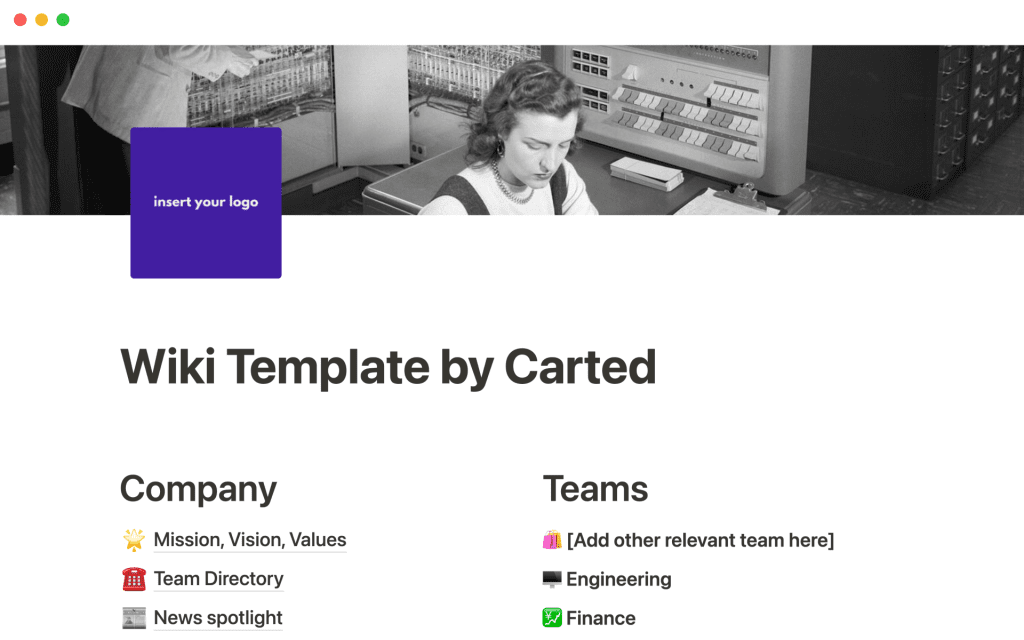 This notion template allows founders and startup leaders to organise information and work transparently. Use it as a home for your entire company with a space for each teams goals, processes, and context.

Free Startup school OS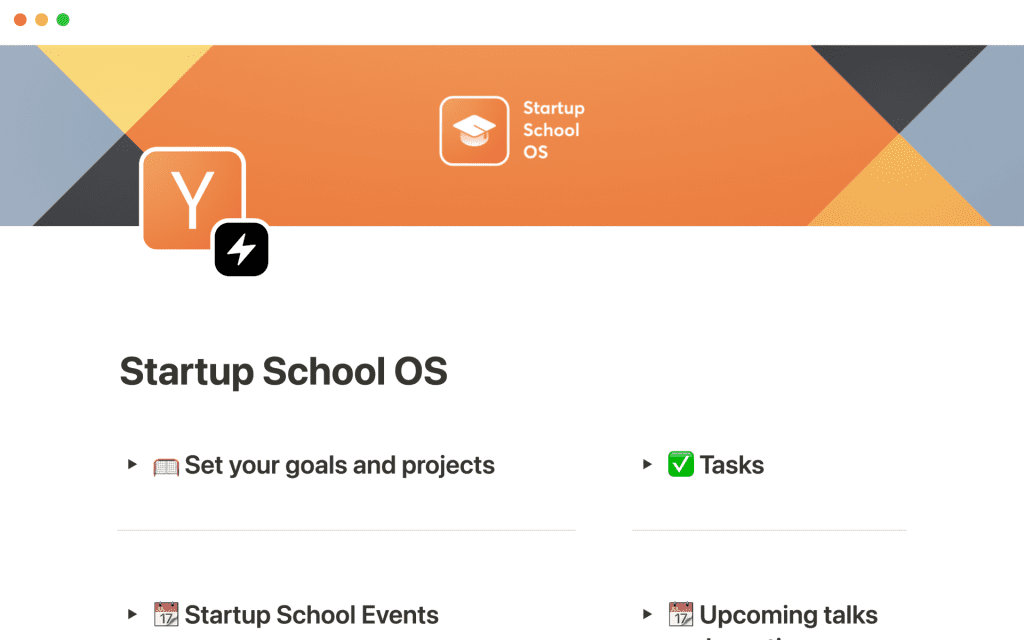 If you're an aspiring founder, startup operator, or looking to deep dive into the startup world then YC Startup School is the best place for you to learn. Bardeen.ai is launching this template to help you make the best out of the program!
The Startup School OS is a supercharged operating system to organize and automate your learning experience. It allows you to organize, manage and stay on top of the progress of the program, all with time-saving automations so you can actually focus on building your startup.
The Ultimate CRM for Fast-Growing Startups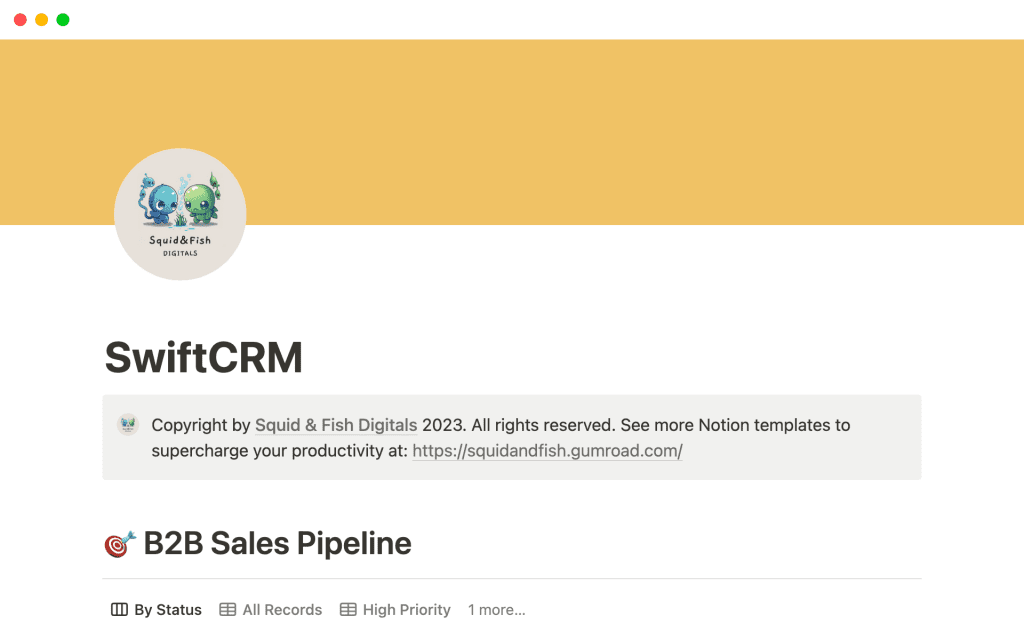 SwiftCRM empowers individuals, teams, and companies by simplifying B2B relationship management and providing a range of benefits. It enables users to efficiently track and nurture leads, manage customer interactions, and streamline sales activities, leading to improved conversion rates and higher revenue. With its user-friendly interface and laser-focused features, SwiftCRM helps businesses focus on what truly matters, saving time and resources while driving accelerated growth and success.
GRID's startup runway calculator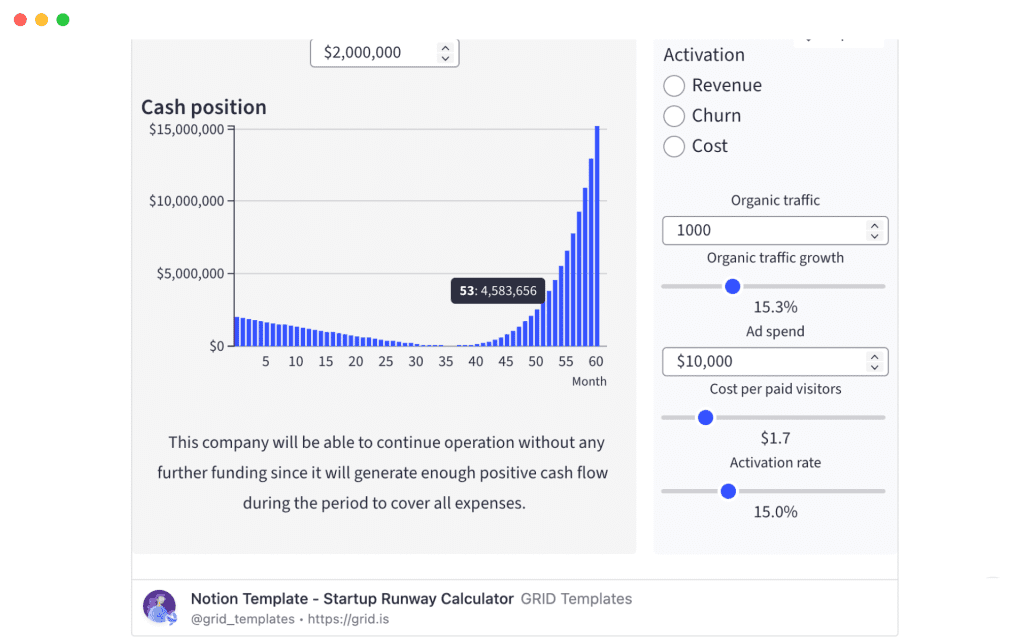 This free startup runway notion template makes spreadsheet data easy to understand and leverage, so your team can move fast and get more done than you ever imagined. They made this startup runway calculator to help startups forecast, budget, strategize and seek funds. Ditch the static spreadsheets and link directly to your GRID data model
Startup OS Notion Template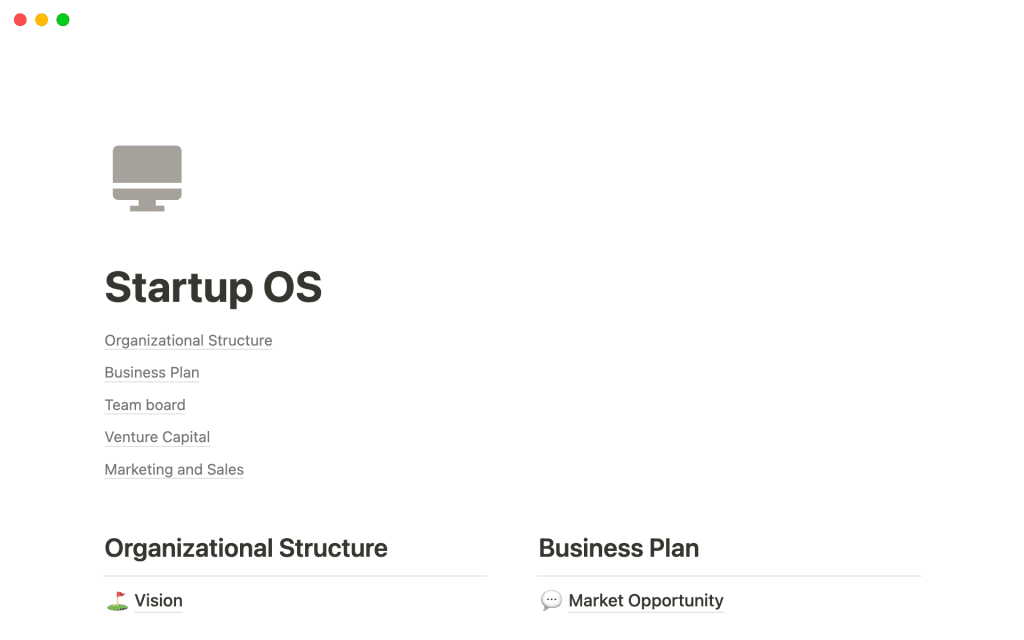 Startup OS helps you Manage your business with ease
A business only needs a few things to start:
1. An Organizational Structure
2. A Business Plan
3. The Best team
4. Venture Capital
5. Marketing and Sales
And a place to manage all these,
Download Startup OS for free now ❤️
Free Startup Sales CRM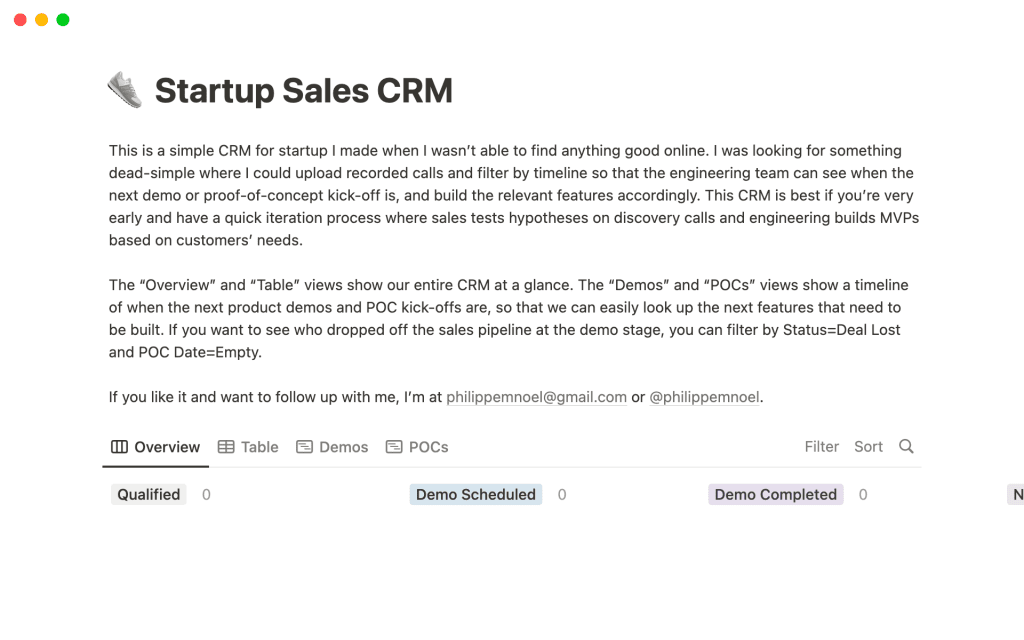 This is a simple CRM for startup I made when I wasn't able to find anything good online. I was looking for something dead-simple where I could upload recorded calls and filter by timeline so that the engineering team can see when the next demo or proof-of-concept kick-off is, and build the relevant features accordingly. This CRM is best if you're very early and have a quick iteration process where sales tests hypotheses on discovery calls and engineering builds MVPs based on customers' needs.
Navigating the complexities of startup operations doesn't have to be a daunting task. With the right tools, you can streamline processes, boost efficiency, and drive growth. Notion's collection of free startup templates offers a convenient and versatile solution for startups of all sizes. From project management to marketing strategies and beyond, these templates empower you to bring order to chaos and focus on what truly matters – building a successful startup.
Are these Notion startup templates really free?
Yes, these Notion startup templates are absolutely free to use. Notion and it's creators contribute and provides a range of templates designed to help startups and entrepreneurs streamline their workflows without any cost.
How can these templates help startups enhance their productivity?
These templates are meticulously crafted to address specific aspects of startup operations. From project management and idea organization to financial planning and team collaboration, these templates provide structured frameworks that can boost efficiency, eliminate chaos, and help startups stay focused on their goals.
Can these templates be customized to fit specific startup needs?
Absolutely. Notion's flexibility allows you to customize these templates to suit your startup's unique requirements. You can modify sections, add new elements, or rearrange components to align with your workflow and preferences.
Do I need prior experience with Notion to use these templates?
While prior experience with Notion is not mandatory, having a basic understanding of how Notion works can be beneficial. However, Notion's user-friendly interface makes it relatively easy for newcomers to get started. Many templates come with instructions, making the setup process smoother.
Can I collaborate with my startup team using these templates?
Yes, collaboration is one of Notion's core features. You can invite your startup team members to collaborate on these templates, allowing everyone to contribute, edit, and view updates in real time. This fosters seamless teamwork and keeps everyone on the same page.
Using these free Notion startup templates can be a game-changer for your startup journey, offering tools that simplify complexity and pave the way for organized and successful operations.
Ready to revolutionize your startup operations? Explore these Notion startup templates and unlock the potential to transform your ideas into reality. Whether you're a first-time entrepreneur or a seasoned startup enthusiast, these free templates are your stepping stones to organized and efficient business management. Start simplifying your startup journey today!
---
Before you head out, don't miss the chance to explore our top-notch Notion Templates featured on the following pages:
Notion Templates by PugoStudio (Specialized for Startups and Businesses)
---