Organize your ENTIRE Life, works, and family in Notion.
One place to Manage Everything in your life, entirely in Notion.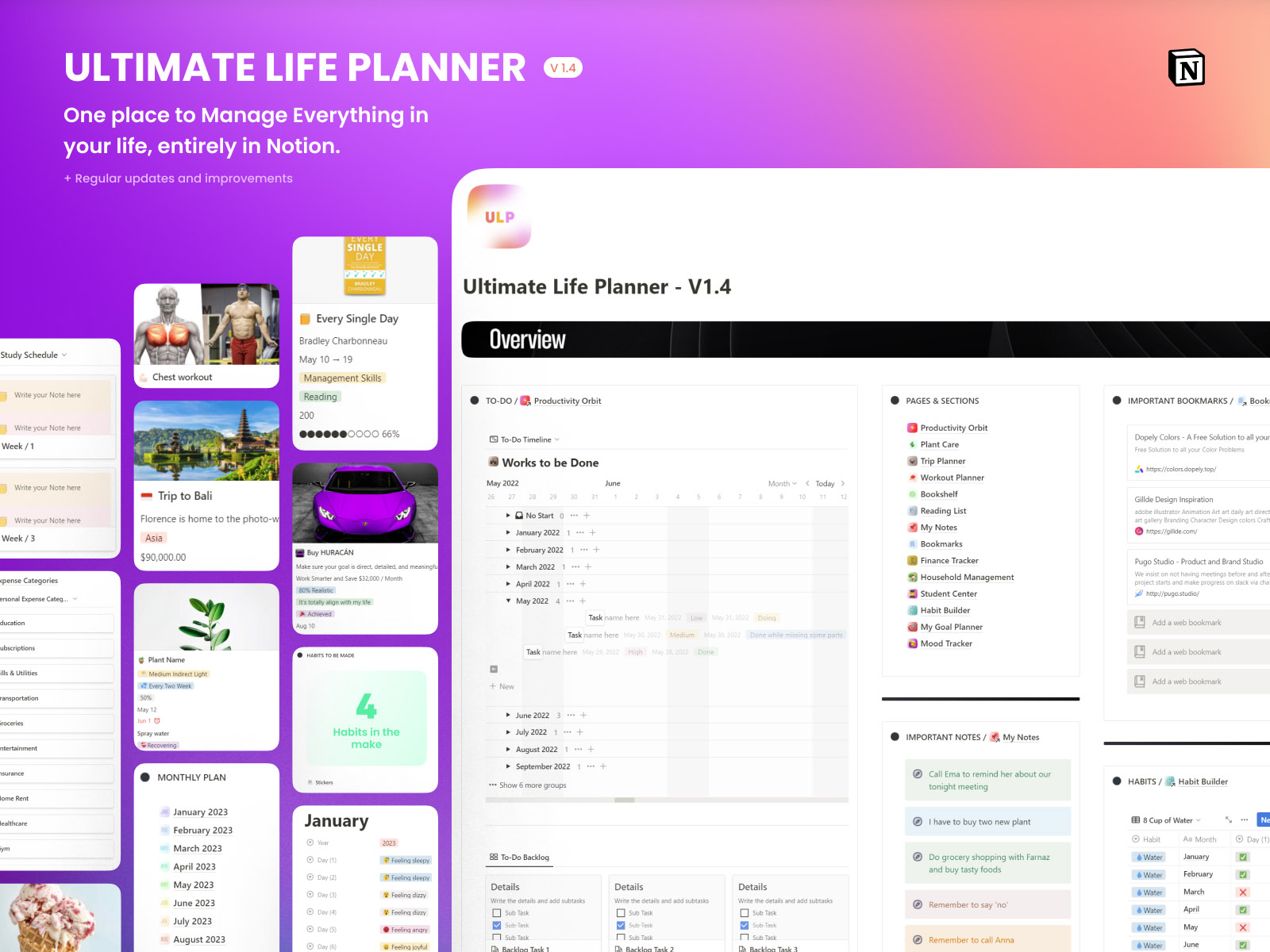 Super life turns Notion into your central home for tasks, habits, workouts, self care, nutrition, finances, and more.
We asked our users for their thought on Super Life​
Here are their responses...
After using ultimate life planner my life changed! Ultimate life planner is great. I couldn't have asked for more than this.
Thank you for making it painless, pleasant and most of all hassle free! Keep up the excellent work. I use ultimate life planner often.
Ultimate life planner is worth much more than I paid.
It's really wonderful. The very best thing is the regular updates with new feature and sections that expand the ultimate life planner ability and helps more.
The very best! I use the productivity orbit, finance manager and workout planner more than other areas and this changed my way of life management and making room in my brain for more important stuff in life.
I STRONGLY recommend ultimate life planner to EVERYONE interested in want to have a free mind and successful life!
Nice work on your ultimate life planner. Just what I was looking for.
With ultimate life planner, I have finally finished things that have been waiting forever to get done. ultimate life planner makes me more productive for 100% sure and I'm glad I found ultimate life planner.
I'm thrilled. The quality and the design is sleek and elegant. I'm in love
I've tried many different productivity tools and apps over the years, but the Super Life – Life Planner Notion Template is by far my favorite. It's intuitive, versatile, and has all the features I need to stay on top of my busy schedule.
Since using the Super Life Notion Template, I've been able to achieve more of my goals and feel less stressed about my daily tasks. It's a great tool for anyone looking to improve their productivity and organization.
The Life Planner has helped me develop healthier habits by allowing me to track my fitness goals and water intake. It's a great all-in-one tool for anyone looking to improve their overall wellness and productivity.
I love the flexibility of the Super Life. It allows me to customize it to my specific needs and preferences. Plus, the beautiful design makes it a joy to use every day.
Plan & Organize your life
No one was born organized. Organized people build good and healthy habits that help them to be organized. The ultimate life planner helps you get and stay organized.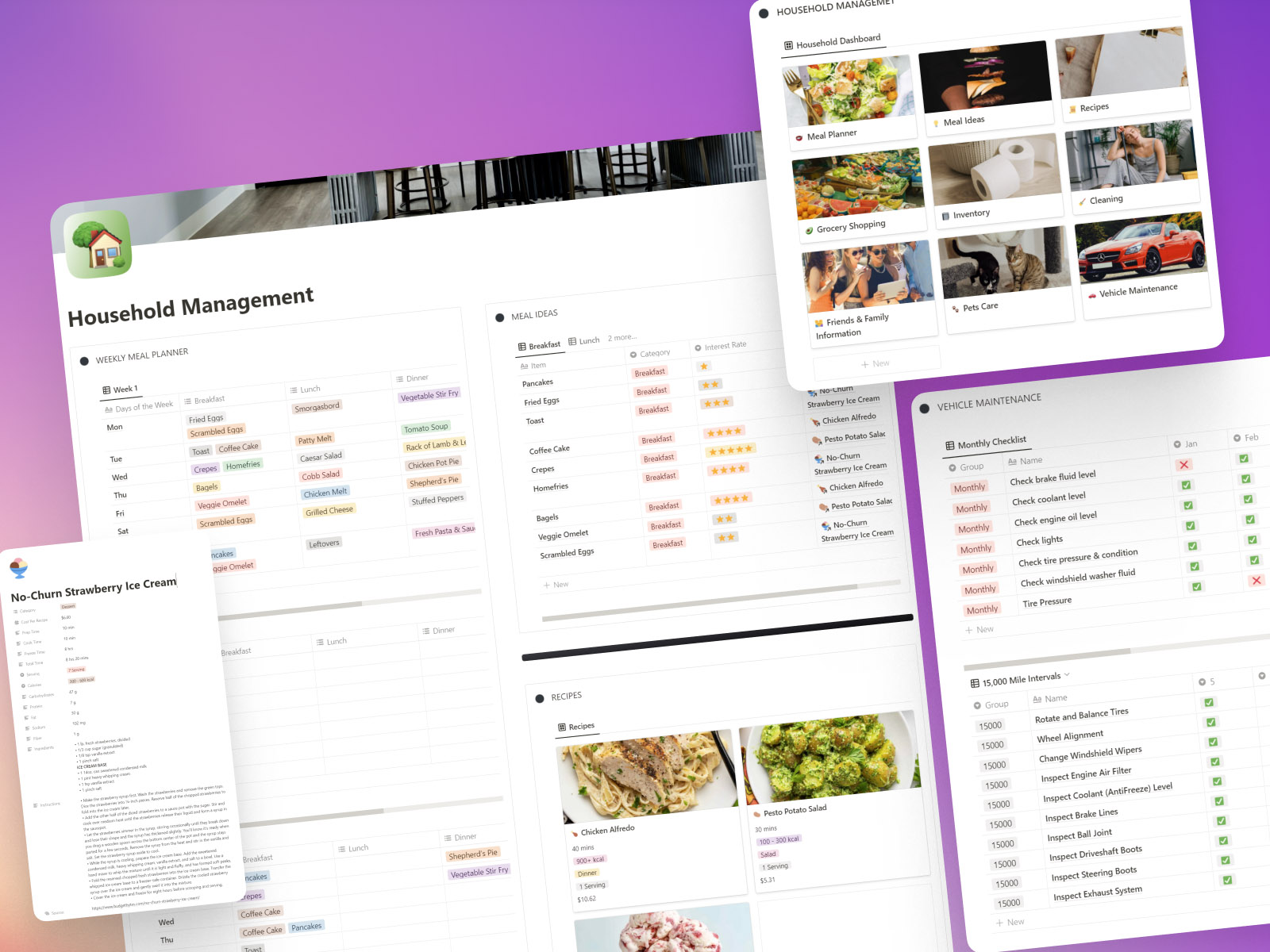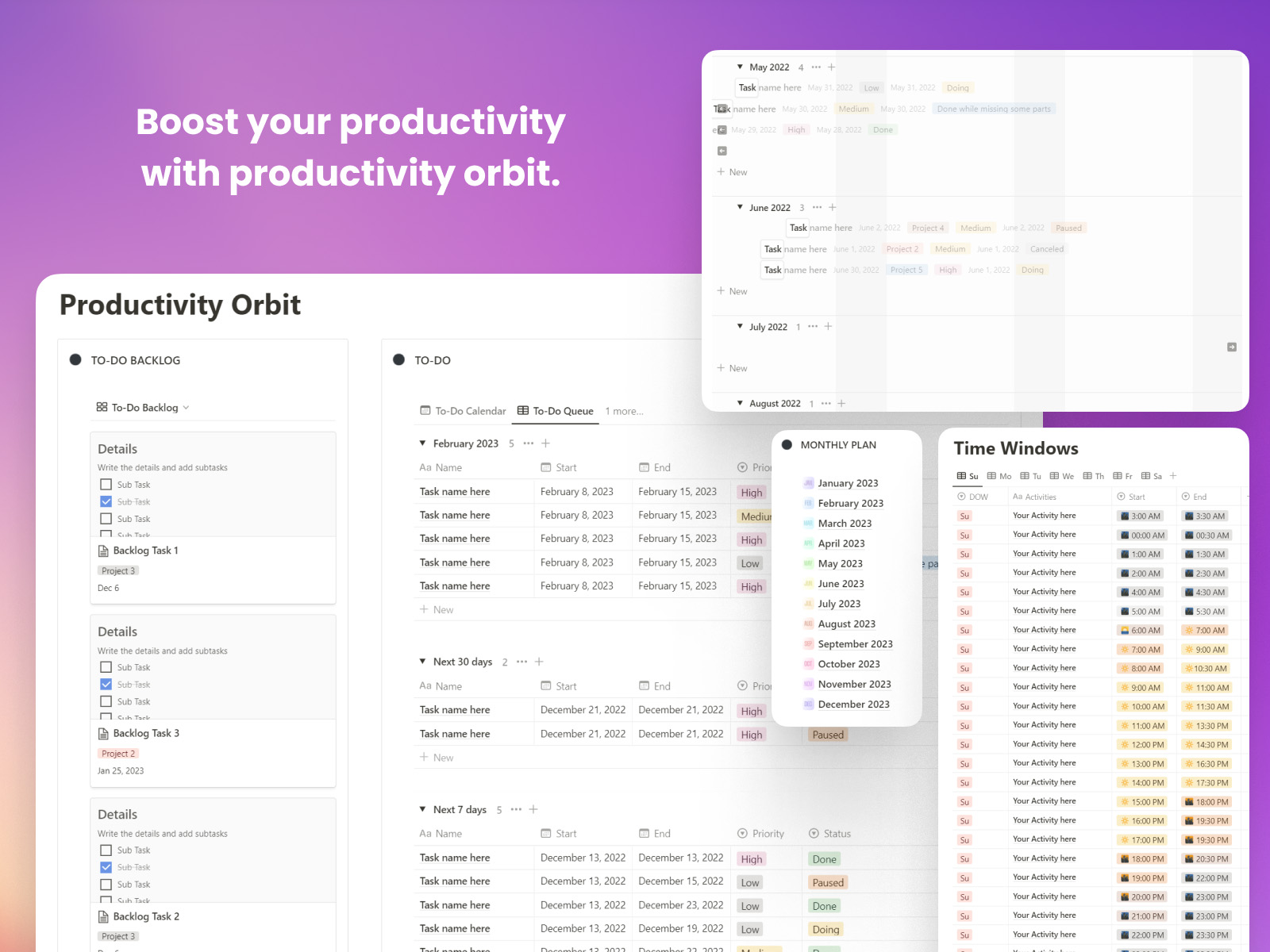 Productivity to a new level
Do you feel your productivity level is suffering at work or home? Being productive is a crucial part of having a successful life. The less productive you are, the less likely you are to advance in your career and life. The ultimate life planner's productivity orbit helps you to plan and manage your tasks from buying a soda to do your work tasks.
Painless finance management
Never forget anything about your life finances. Quickly capture and organize your spending, savings, revenues, and where your money goes.
The finance management dashboard, helps you track your income, and expenses, create and divide your spending between spend categories, and add bank accounts.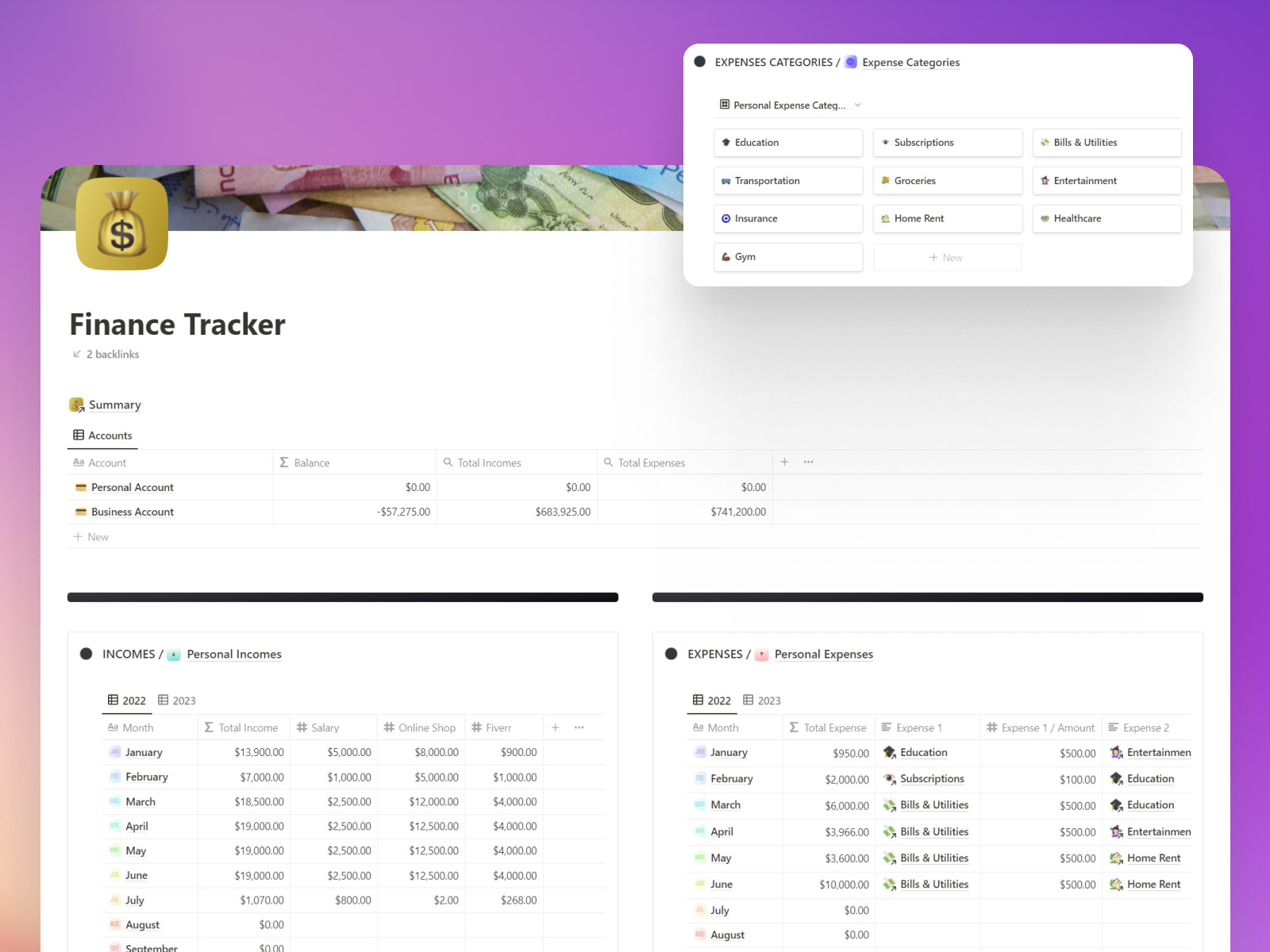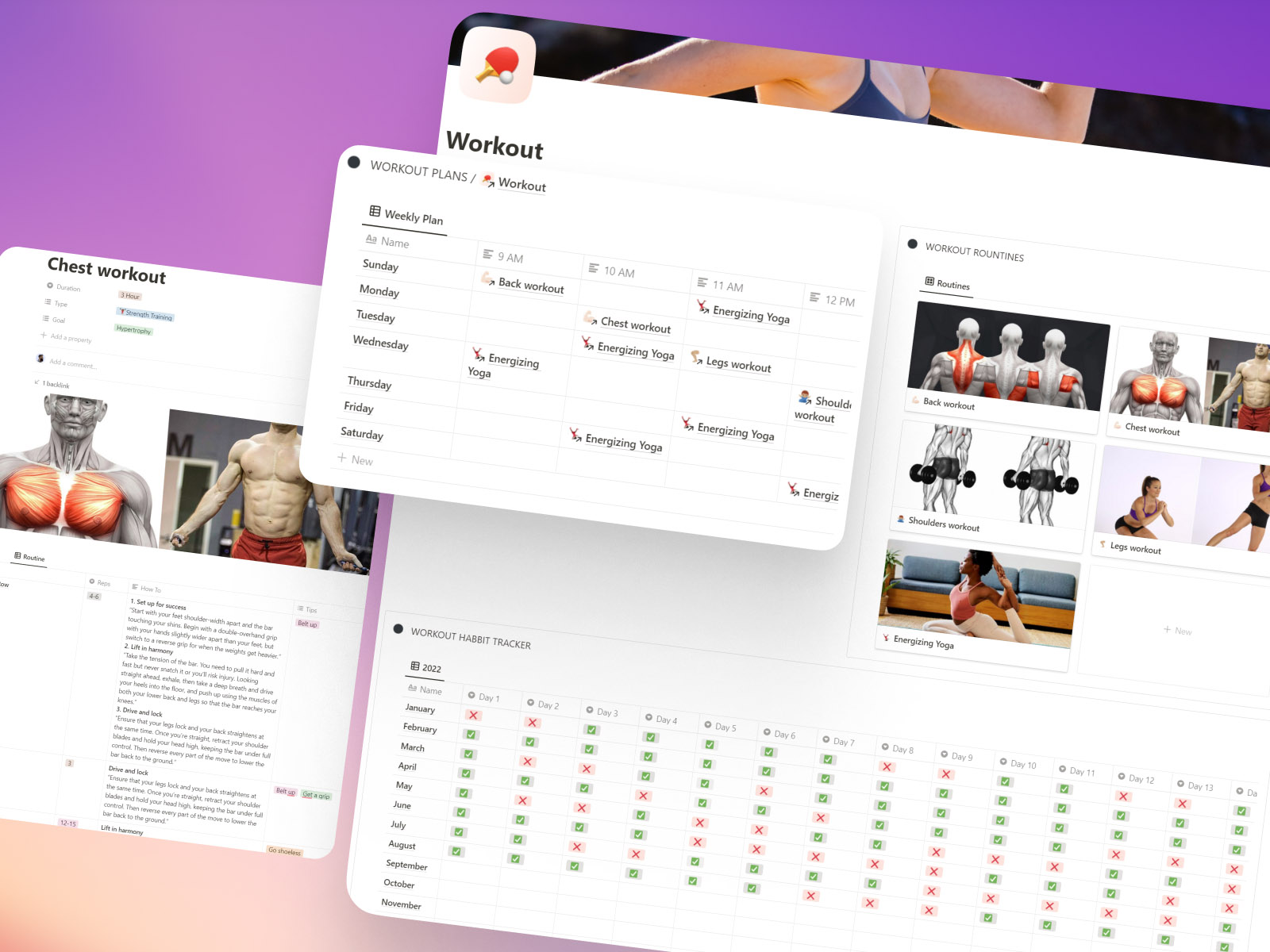 Never Miss a Workout again.
I used to miss more workouts than I would ever care to admit, but what can I say? it happened. The most important thing is that it doesn't happen any longer because I've learned to recognize the symptoms that lead to workout disaster.
Don't make workout excuses, Make progress.
This workout planner helps you to plan, manage, track, and stick to your workout routines and build healthy habits.
 Whether you're planning to change a behavior, or build a new habit, tracking your progress is one way to stick to your goals long-term.
Recent research suggests that people who used an app to track their study habits successfully built new study habits. The more they repeated the new behavior, the more motivated they became to stick to their goals without conceding to distractions.
With this habit tracker inside your Notion, build and track new habits and leave your bad habits. Using this habit tracker motivates you to do the things you want to do and makes you happier.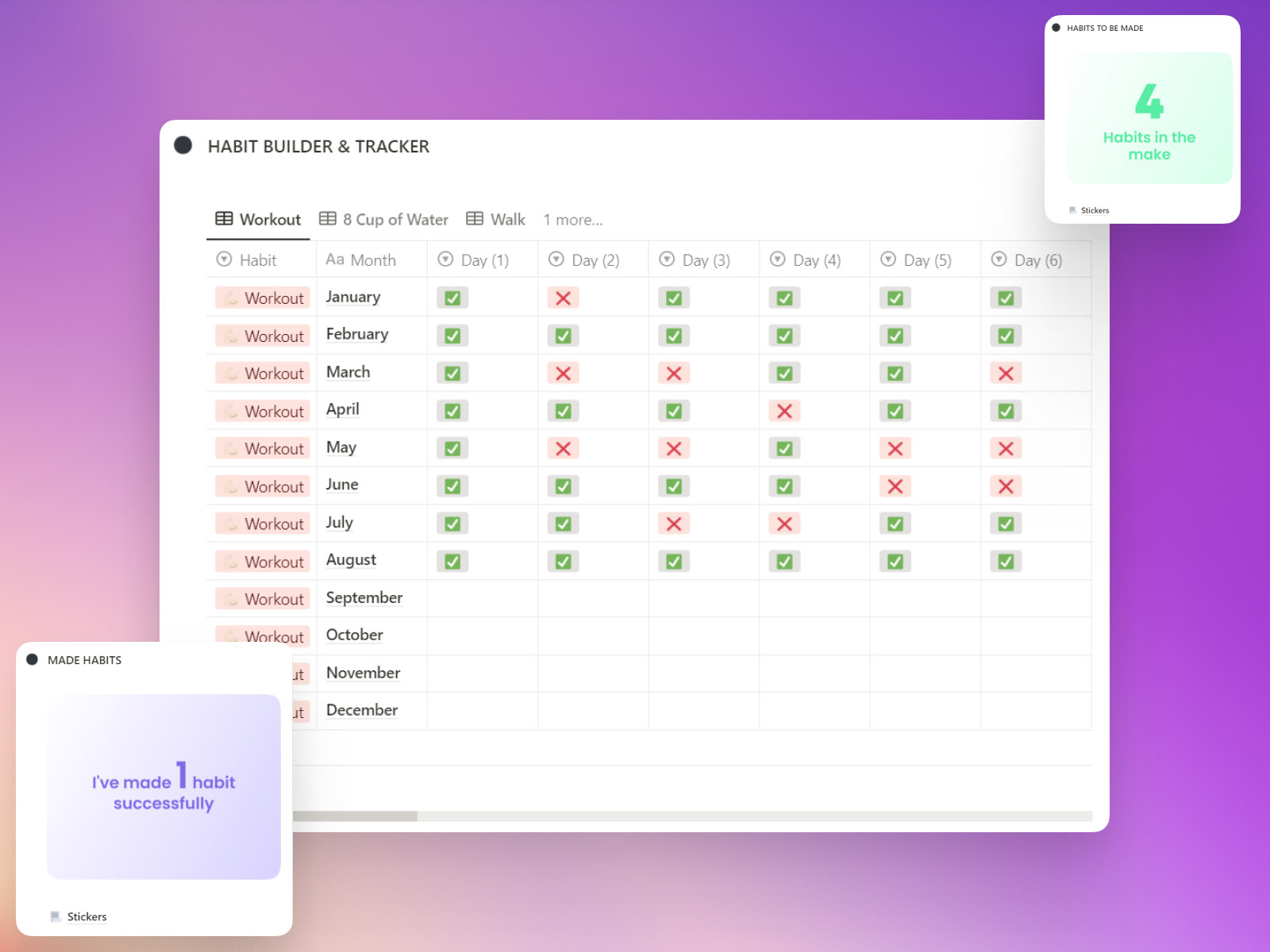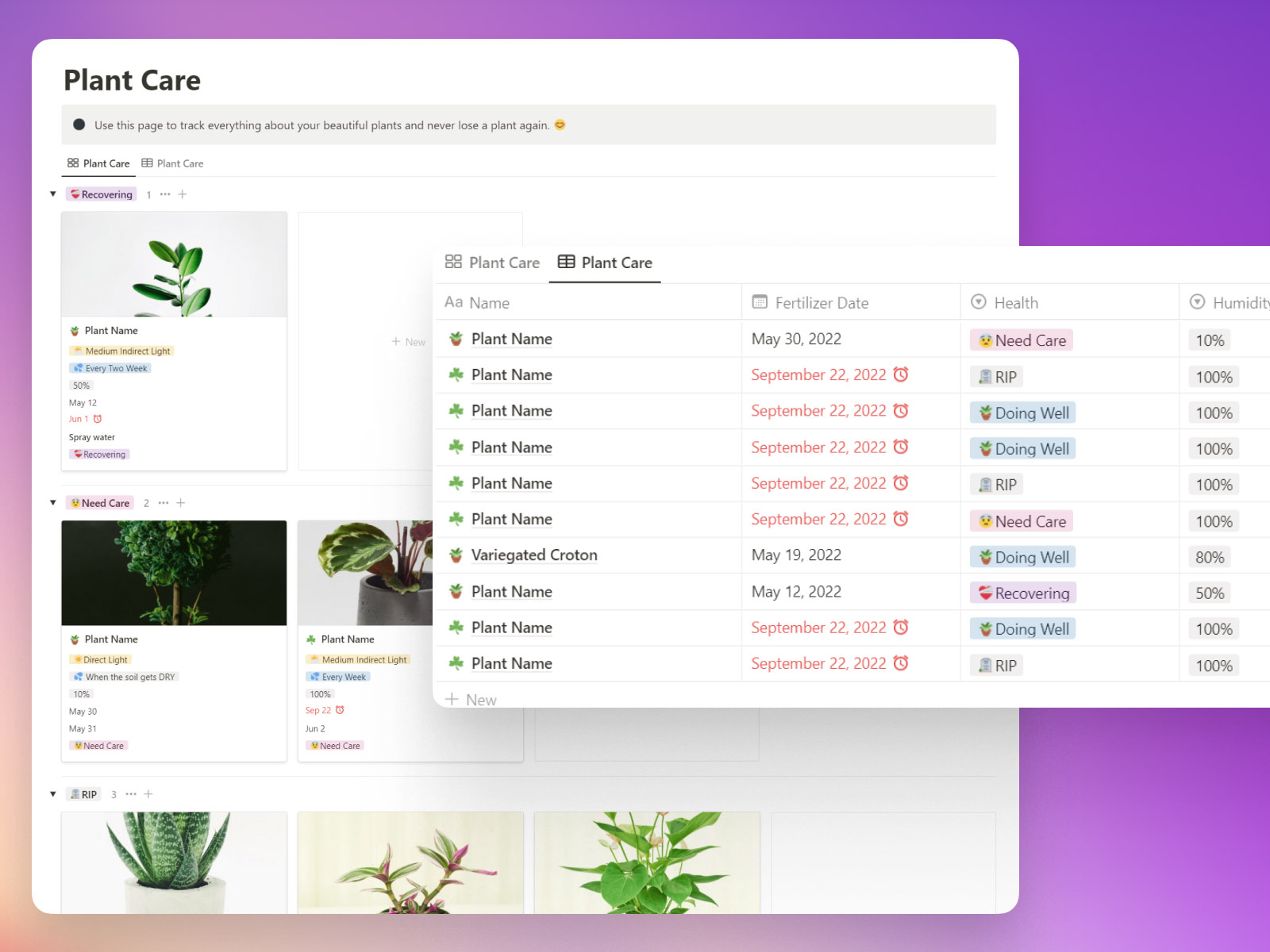 Now plant care is downright easy
Never lose a plant you love. Easily add, track and take care of all your lovely house plants.
Never miss a water or fertilization day. This section will help you keep track of your plants health, routines, and the tips you need to keep them in good condition and never lose another plant.
Plan and manage your trips
It is an adventure you've always dreamt of, but haven't been able to plan and execute properly.
Create a trip and mood board and plan every aspect of your travels from start to finish.
Planning your new plan has never been easier. Just pick your destination, research places you want to visit in your destination, add your budget, and add the start/end date of your trip. Now, wait for the reminder from this planner.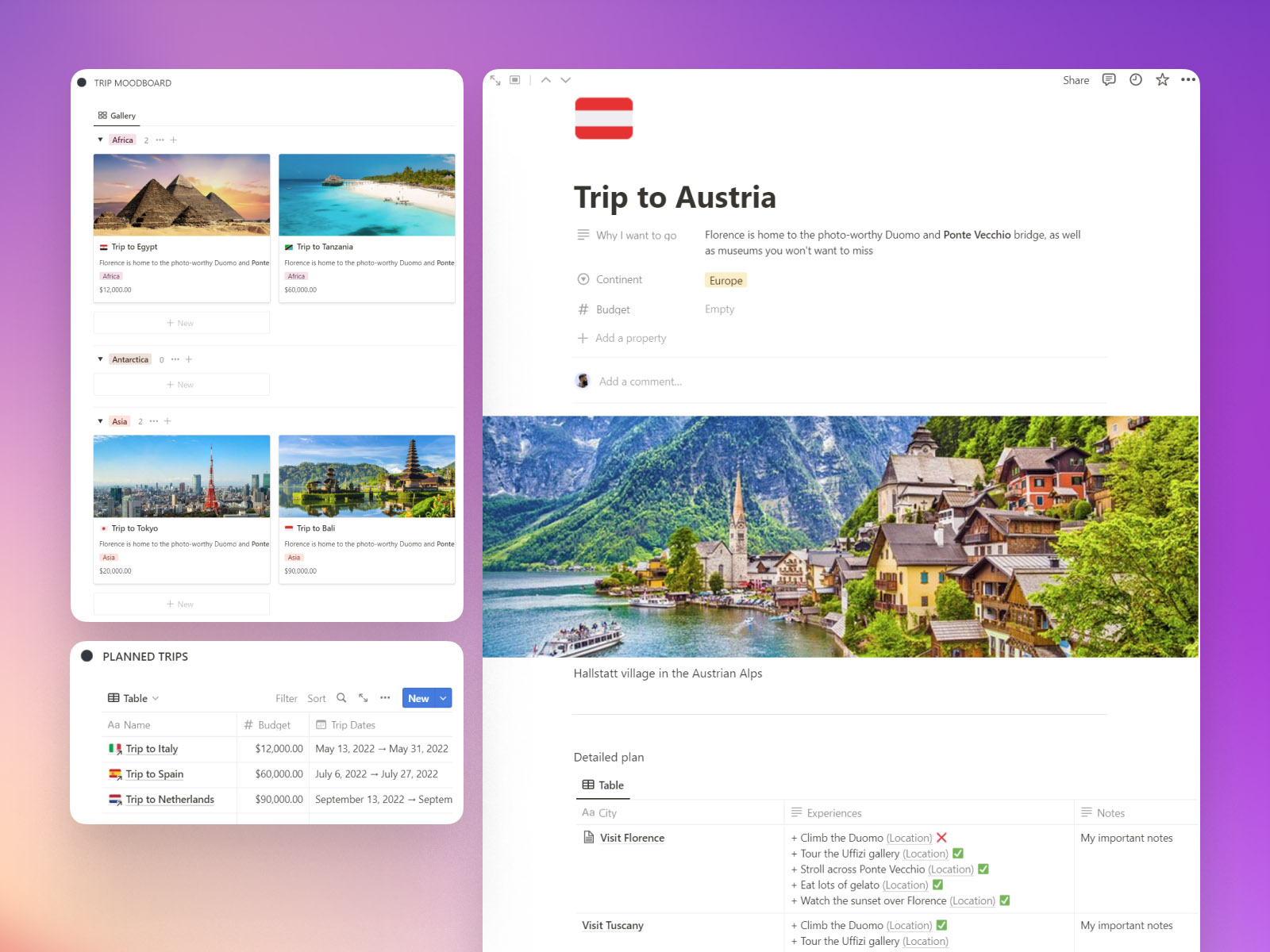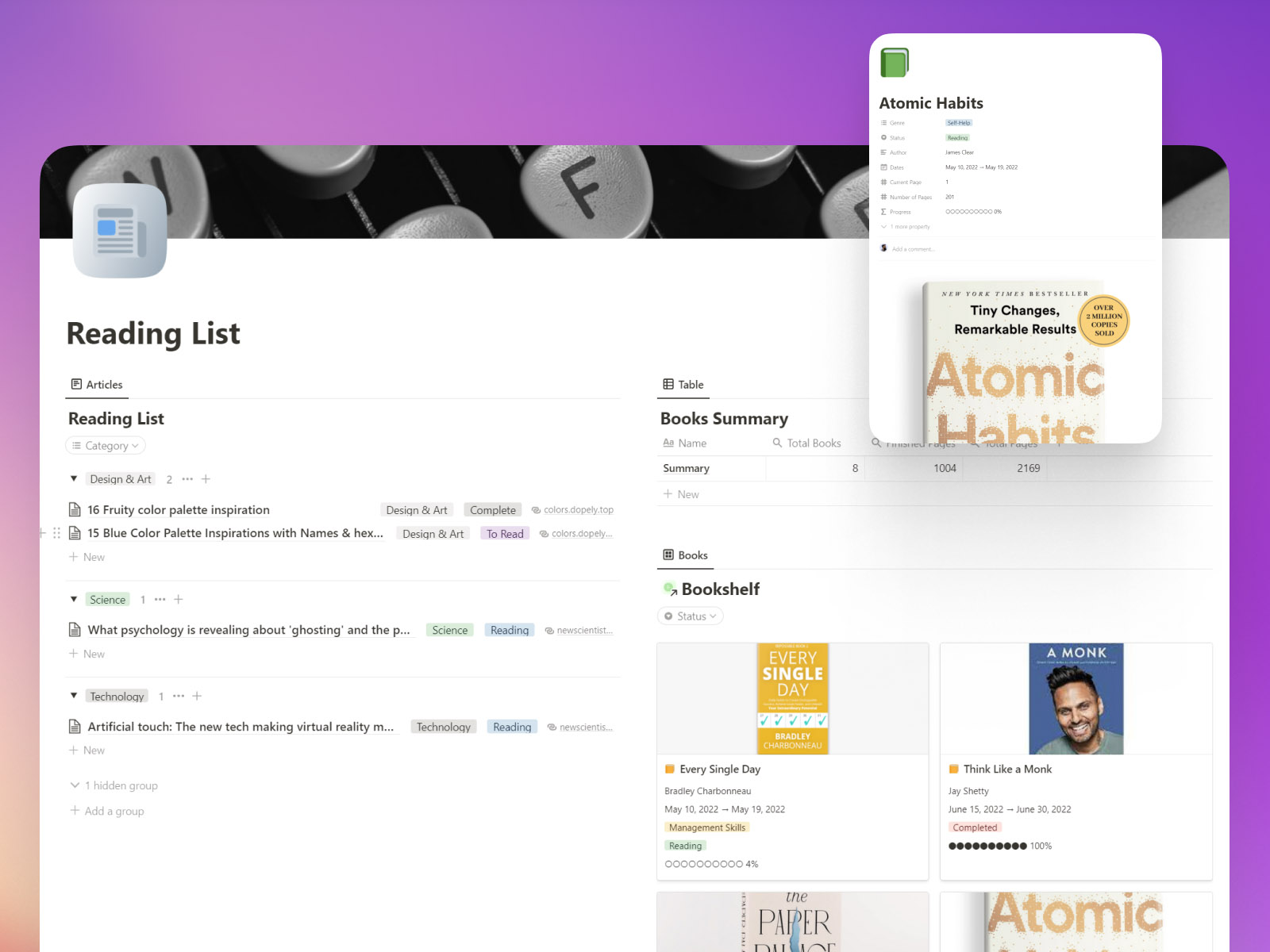 Your bookshelf and reading tracker
Track books and articles you are reading, or add books you have on your mind to read later.
Manage your whole book directory and organize them based on books you complete, books that you are reading, and the next books you're going to read. Manage and track all your books and articles in one place. The only reading list you need to manage is all the articles you read or you want to read later. group your reading list-based category easily.
Making resolutions isn't hard; meeting your goals is. These goal-setting and tracking tools will help you and your family accomplish goals.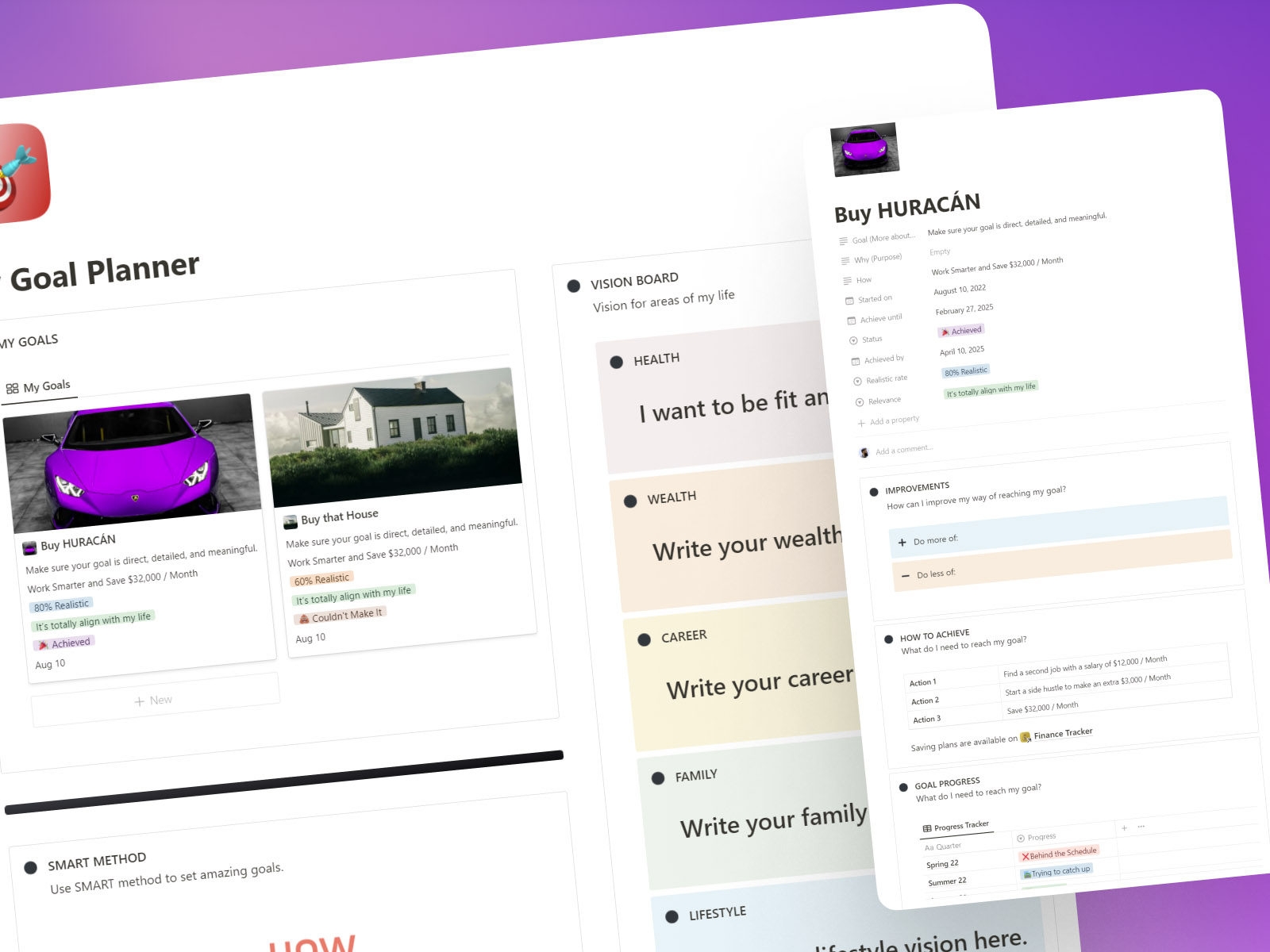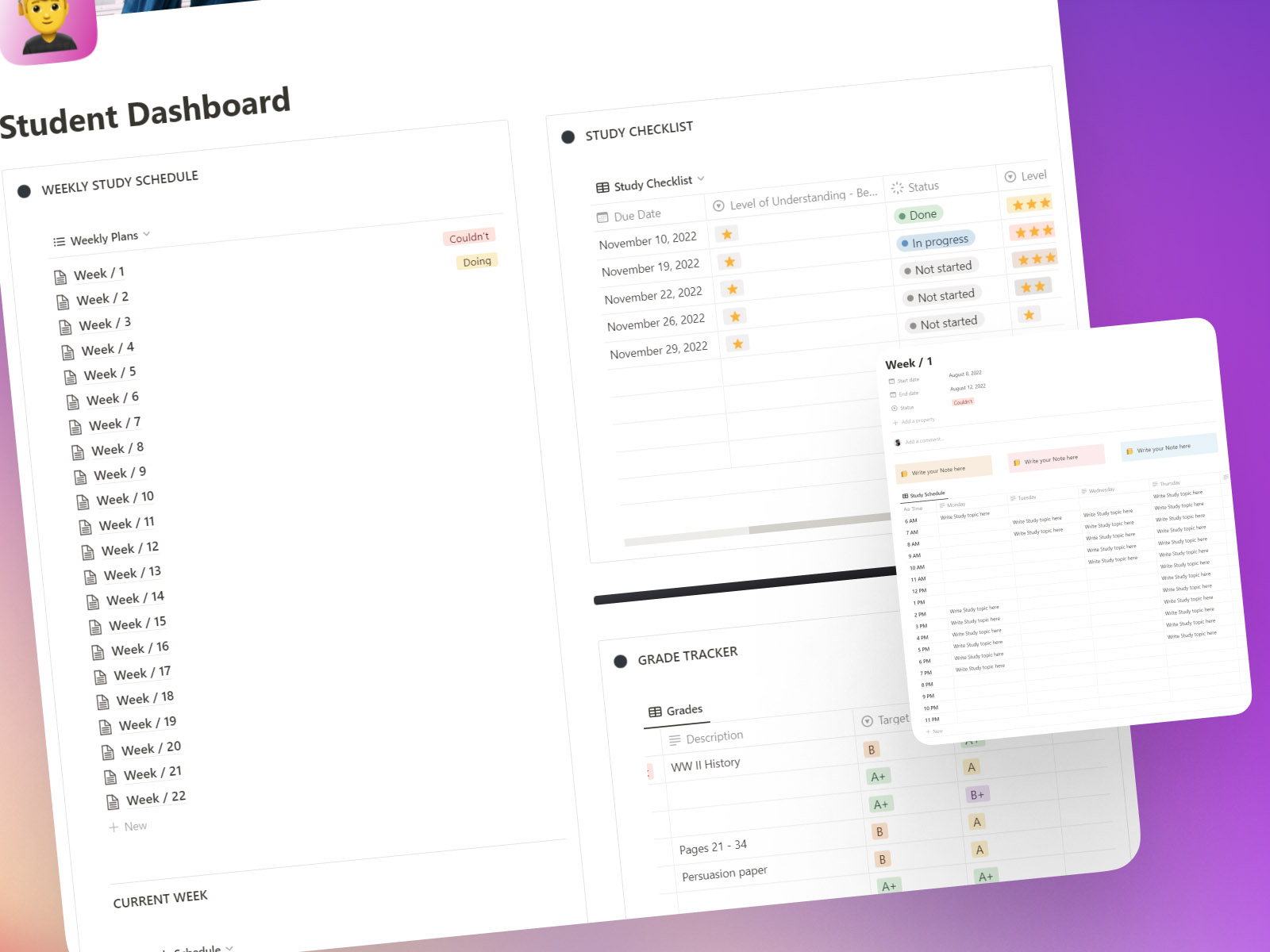 Plan school and university works
Suppose you or your kids are a student, All the reading and deadlines for essays and assignments must be completed. It might feel all too much and impossible to be able to finish it all.
But don't worry! If you plan ahead you will find out that it is all doable.
With the help of the student dashboard inside of notion, you can plan, manage and track everything about school and university in one place and never lose control over your school tasks.
Understanding your moods helps you manage them and feel better faster. If you are more aware of your moods, you may be able to better manage your lifestyle choices, make informed health decisions, prevent or avoid triggers of negative moods, and work towards a better quality of life.
Using this simple and straightforward section helps you to track your mood on daily basis and gain better self-awareness.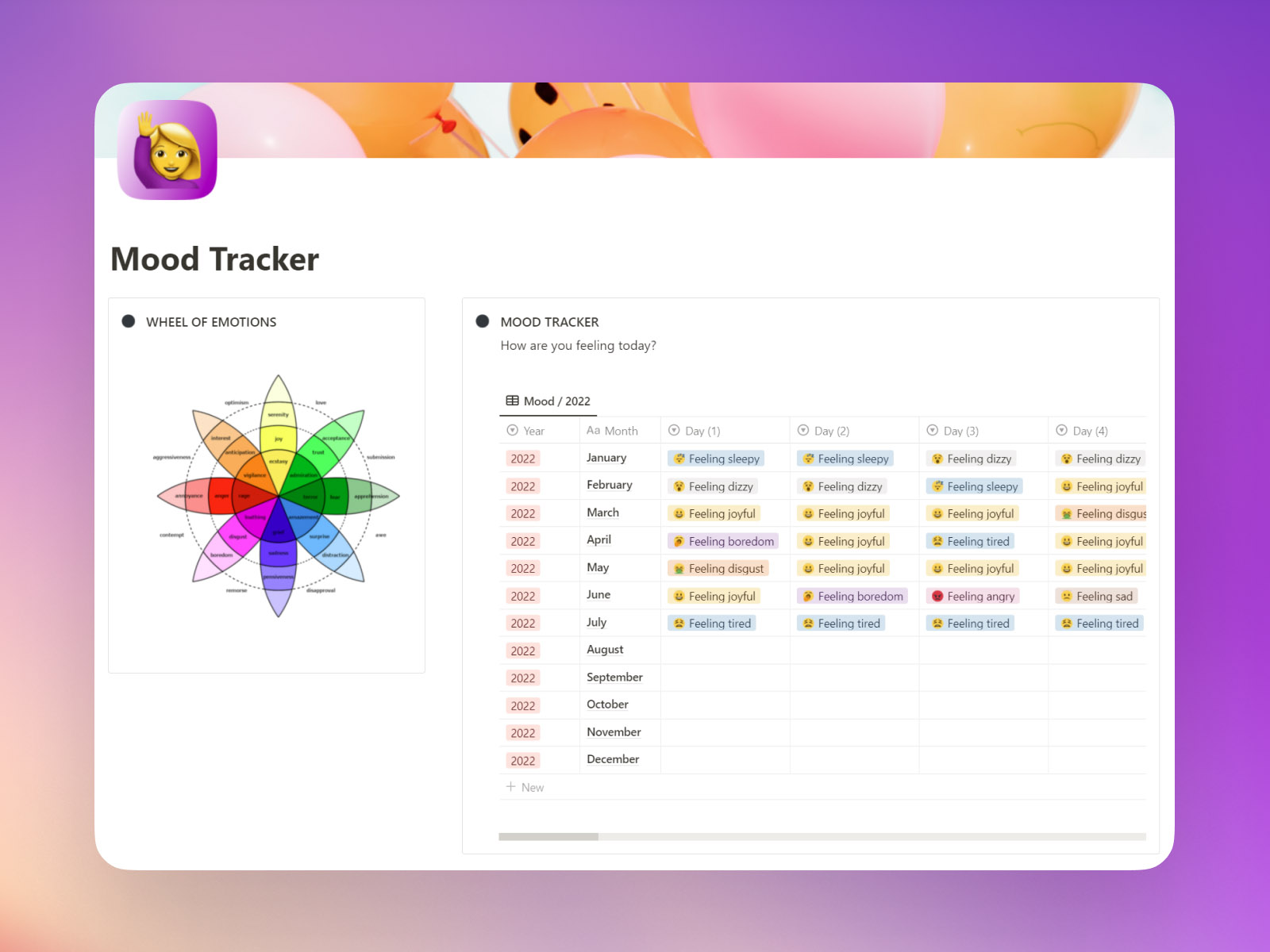 Feel in control of your home, work and life.
Here are the areas and sections you will get with Super Life for Notion for only $35!
Let's create the magic you need in your life. 🧙
Super Life (Ultimate Life Planner) brings tasks, notes, plans, health, plant care, travel plans, Finance, and many more seamlessly together in Notion.