Organize your ENTIRE Life, works, and family in Notion.
One place to Manage Everything in your life, entirely in Notion.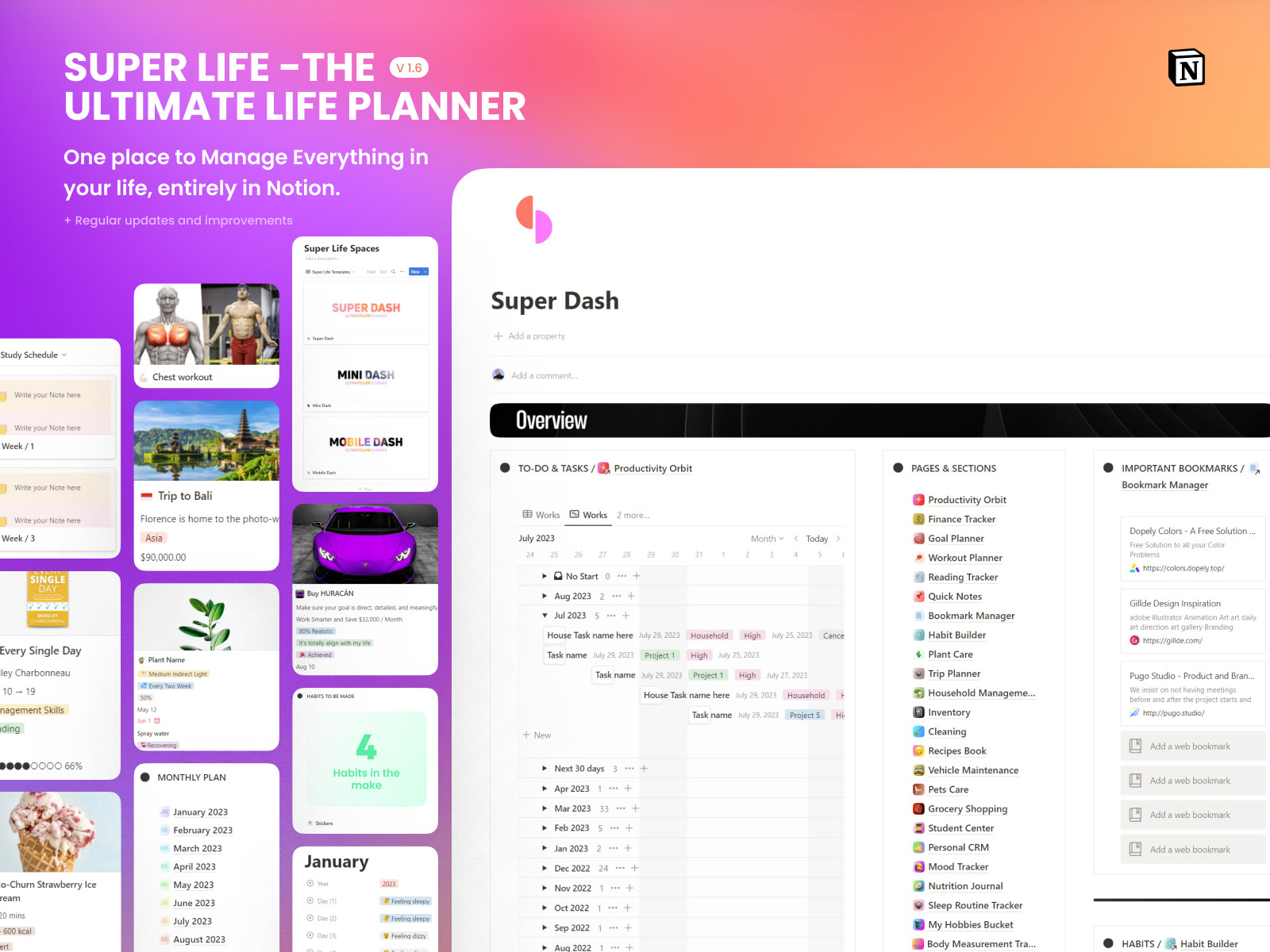 Are you tired of juggling tasks, struggling with disorganized routines, and feeling like your life is scattered in chaos?
Imagine having a single place where you can seamlessly manage every facet of your life, from work to family to personal growth. Say hello to the Ultimate Life Mastery Notion Template – your gateway to a life of exceptional organization, unparalleled efficiency, and boundless success.
Finally, all your life in one place.
Welcome to a world where chaos is tamed, goals are achieved, and harmony is your new reality.
Organize and Supercharg
your entire life with
Super Life
Notion template.
With Super Life, everything in your life has a home, you will be more organized, and productive.
These are just a glimpse of the many sections and subsections available in Super Life. Whether you're a student, a professional, an entrepreneur, or anyone seeking holistic life management, Super Life offers a comprehensive toolkit tailored to your specific needs.
What's Inside - Features that Elevates Your Life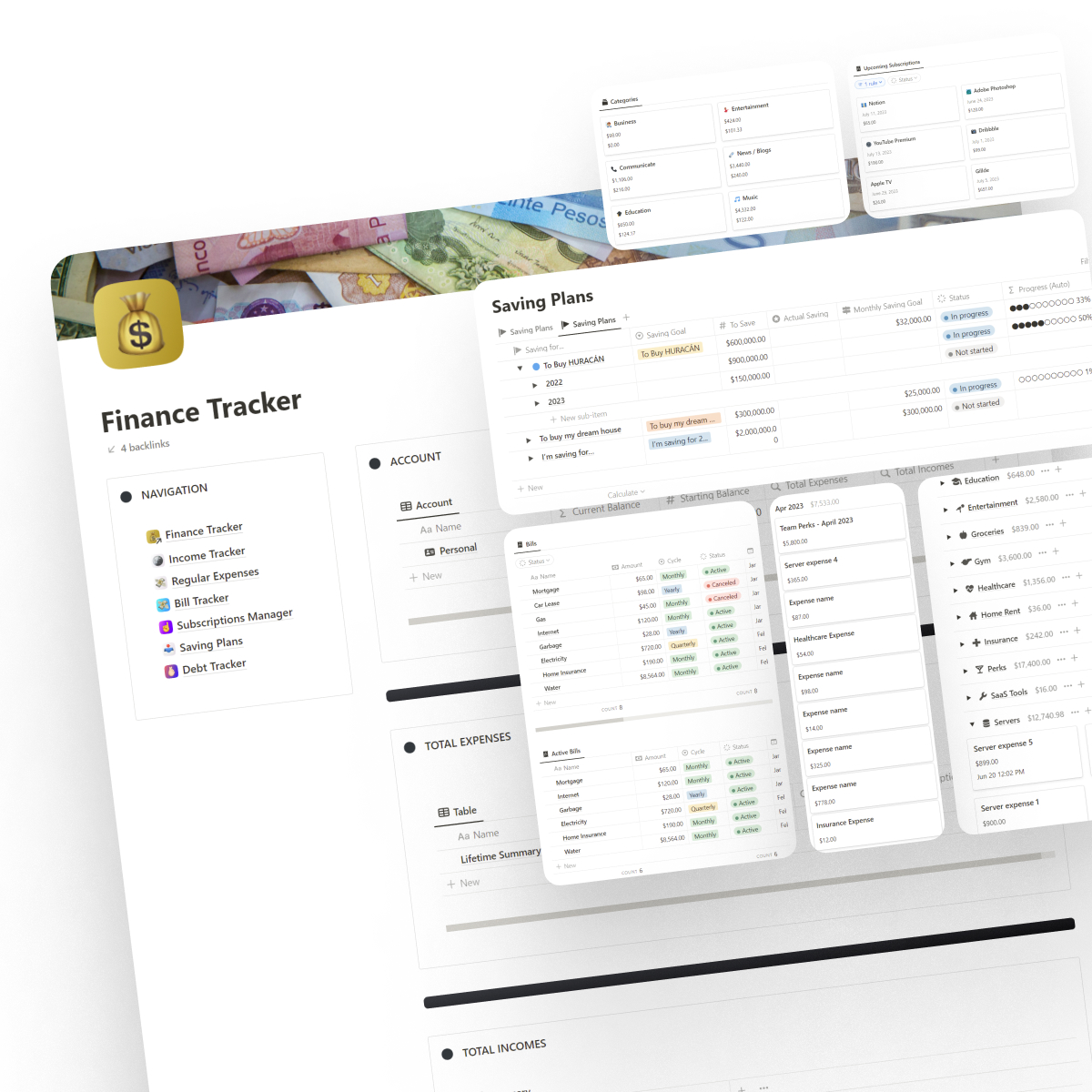 Take control of your financial well-being using a potent finance tracker. Stay on budget, track expenses, and secure a prosperous future. Effortlessly manage subscriptions, eliminate missed payments, and regain control. Stay ahead of bills, avoid late fees, and effortlessly meet financial obligations. Effectively track and manage debts while prioritizing payments. Empower your financial journey today.
We asked our users for their thought on Super Life​
Here are their responses...
After using ultimate life planner my life changed! Ultimate life planner is great. I couldn't have asked for more than this.
Thank you for making it painless, pleasant and most of all hassle free! Keep up the excellent work. I use ultimate life planner often.
Ultimate life planner is worth much more than I paid.
It's really wonderful. The very best thing is the regular updates with new feature and sections that expand the ultimate life planner ability and helps more.
The very best! I use the productivity orbit, finance manager and workout planner more than other areas and this changed my way of life management and making room in my brain for more important stuff in life.
I STRONGLY recommend ultimate life planner to EVERYONE interested in want to have a free mind and successful life!
Nice work on your ultimate life planner. Just what I was looking for.
With ultimate life planner, I have finally finished things that have been waiting forever to get done. ultimate life planner makes me more productive for 100% sure and I'm glad I found ultimate life planner.
I'm thrilled. The quality and the design is sleek and elegant. I'm in love
I've tried many different productivity tools and apps over the years, but the Super Life – Life Planner Notion Template is by far my favorite. It's intuitive, versatile, and has all the features I need to stay on top of my busy schedule.
Since using the Super Life Notion Template, I've been able to achieve more of my goals and feel less stressed about my daily tasks. It's a great tool for anyone looking to improve their productivity and organization.
The Life Planner has helped me develop healthier habits by allowing me to track my fitness goals and water intake. It's a great all-in-one tool for anyone looking to improve their overall wellness and productivity.
I love the flexibility of the Super Life. It allows me to customize it to my specific needs and preferences. Plus, the beautiful design makes it a joy to use every day.
As a busy marketing manager, Super Life has been my saving grace. It keeps me organized and focused.
Sarah Roberts, Marketing Manager
My Ultimate Life Planner is of exceptional quality, far surpassing all my expectations! Mr. Pugo went above and beyond, creating a custom-tailored, easy-to-use system that's a game-changer for managing ADHD.  Highly recommended for anyone seeking an organized life! 💯🌟
Super Life has helped me achieve work-life balance. It's an invaluable tool for managing my household tasks and responsibilities. and it's Student Center has been a lifesaver during my studies. It keeps me organized and ensures I never miss deadlines.
I used to struggle with keeping track of my finances, but Super Life's Finance Tracker has made it so much easier. A must-have for anyone looking to improve their financial health.
This is absolutely amazing, especially for a parents who's usually quite disorganized.
Highly recommended! I'll definitely be returning whenever I'm in need of more Notion templates.
Awesome planner! The way it's designed made it super easy to tweak and customize according to what I needed. Big thanks! 🙌
I. Love. It! I've finally learned how to use Notion, and I'm breezing through this template. It includes a lot. I absolutely adore it! I highly recommend it to anyone seeking an all-in-one, fully functional Notion Life Planner!
Let's create the magic you need in your life. 🧙
Super Life (Ultimate Life Planner) brings tasks, notes, plans, health, plant care, travel plans, Finance, and many more seamlessly together in Notion.
Feel in control of your home, work and life.
Frequently asked questions
What is Super Life - Ultimate Life Planner?
Super Life is an all-in-one Notion template that empowers you to organize and manage every aspect of your life in a single dashboard. It offers a comprehensive toolkit for tasks, habits, health, finances, travel plans, and more, providing you with a holistic approach to life management.
How can I benefit from using Super Life?
By using Super Life, you can streamline your life, improve productivity, and achieve work-life balance. The template helps you stay organized, track your goals, manage your finances, cultivate positive habits, and foster meaningful connections, all within a seamless Notion experience.
What features does Super Life offer?
Super Life includes dedicated sections like Health & Wellness, Personal Finances, Productivity & Goals, Home & Lifestyle, Education & Growth, and Relationship & Connections. These sections encompass various subsections, such as Nutrition Tracker, Goal Planner & Tracker, Household Management, Bookshelf & Reading Tracker, and much more.
Can I customize the Notion dashboard to suit my preferences?
Yes, absolutely! Super Life offers three stunning dashboards – Super Dashboard, Mini Dashboard, and Mobile-Friendly Dashboard – that you can choose from and customize according to your unique preferences. You can personalize the dashboard to cater to your specific needs and optimize your productivity.
Is Super Life compatible with all devices?
Yes, Super Life is compatible with various devices. The Mobile-Friendly Dashboard ensures that you can access your Super Life system on the go, allowing you to stay organized no matter where you are.
How does the Finance Tracker work?
The Finance Tracker in Super Life helps you take control of your financial well-being. You can set budgets, track expenses, manage bills, and stay on top of your debts. It provides a comprehensive overview of your financial health and helps you plan for a prosperous future.
How can Super Life help me improve productivity and achieve my goals?
Super Life offers the Productivity Orbit, which is designed to boost your efficiency and help you conquer your to-do list. Additionally, the Goal Planner & Tracker allows you to set ambitious goals, create actionable plans, and monitor your progress to turn your dreams into reality.
What sections are included in the Household Management feature?
The Household Management feature in Super Life helps simplify home life. It allows you to keep track of chores, schedules, and essential tasks, ensuring a well-organized household.
How does the Bookshelf & Reading Tracker help me cultivate my love for reading?
With the Bookshelf & Reading Tracker, you can organize your reading list, track your progress, and explore new titles. It encourages you to expand your knowledge and make time for reading in your daily life.
Can I track my workout routines and fitness progress with Super Life?
Yes, the Workout Planner & Manager in Super Life enables you to design personalized fitness routines, track your progress, and work towards achieving your health goals.
What does the Plant Care Dashboard offer for plant enthusiasts?
The Plant Care Dashboard ensures that you never forget to water or tend to your plants. It helps you develop your green thumb and take care of your beloved green companions.

How can the Habit Builder & Tracker help me establish positive habits?
How can the Habit Builder & Tracker help me establish positive habits?
The Habit Builder & Tracker assists you in developing positive habits and tracking your progress. It empowers you to transform your routines and enhance personal growth.
Is there a mood tracker feature in Super Life, and how does it work?
Yes, Super Life includes a Mood Tracker, which allows you to understand your emotions better and create positive mental health habits. You can gain insights into your mood patterns and foster well-being.
Can Super Life assist me in managing my academic life as a student?
Absolutely! The Student Center in Super Life helps streamline your academic life. It enables you to stay on top of assignments, manage deadlines, and ace your studies with ease.
Does Super Life include a Personal CRM for managing relationships and connections?
Yes, Super Life offers a Personal CRM, which strengthens your relationships and keeps you connected with important contacts. You can keep track of interactions and nurture meaningful connections effortlessly.