SalesPro Suite - Notion Sales Dashboard
Elevate Your Sales and CRM Game with Notion all-in-one solution.
SalesPro Suite is not just a template – it's a transformation. It's the comprehensive toolkit designed to revolutionize the way you approach sales and customer relationships. With SalesPro Suite, you're not just managing tasks; you're orchestrating success.
Key Benefits of SalesPro Suite
SalesPro Suite: Where Sales Excellence Begins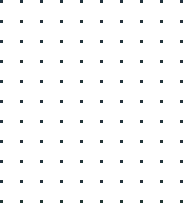 Discover how SalesPro Suite has transformed businesses and empowered entrepreneurs to reach new heights. Read what our satisfied customers have to say about their experience with SalesPro Suite and how it has revolutionized the way they manage and grow their ventures.
Wow, I've been using Business Hub for a while now, and the recent update that includes SalesPro Suite has blown me away. The seamless integration of these tools is a game-changer. I'm fascinated by the added value and the comprehensive approach it brings to managing my business. The ability to harness the power of SalesPro Suite within Business Hub is a genius move. Highly impressed!
SalesPro Suite has transformed how I manage my sales pipeline.
As a solo entrepreneur, SalesPro Suite has been a lifesaver. It keeps me organized and focused on what matters – closing deals. Highly recommended!
What's Inside - Features that Elevate Your Sales Game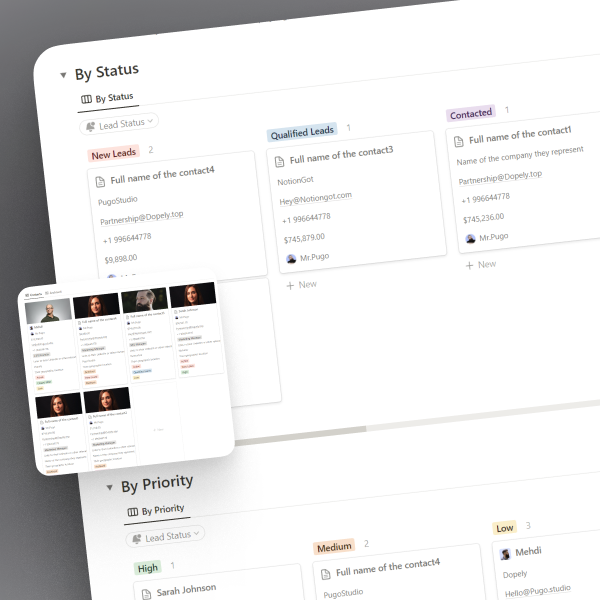 Capture, track, and nurture leads effortlessly, from initial contact to conversion. Customize stages and assign team members for efficient lead handling.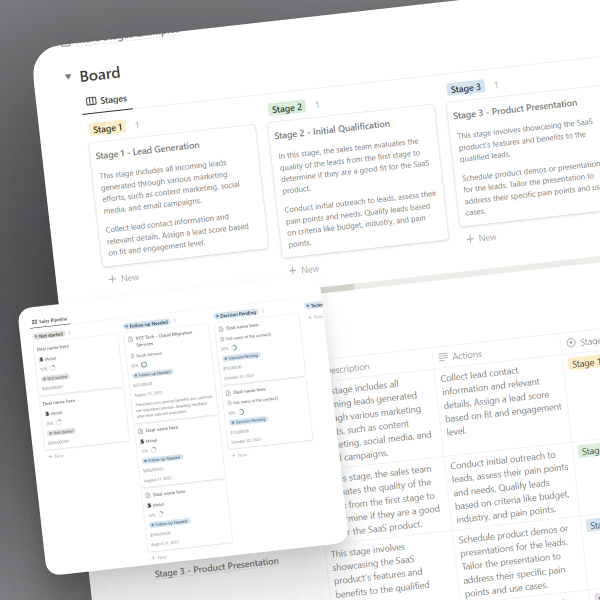 Sales Pipeline & Visualization
Get a clear visual representation of your sales pipeline with customizable columns. Easily monitor opportunities, conversion rates, and progress.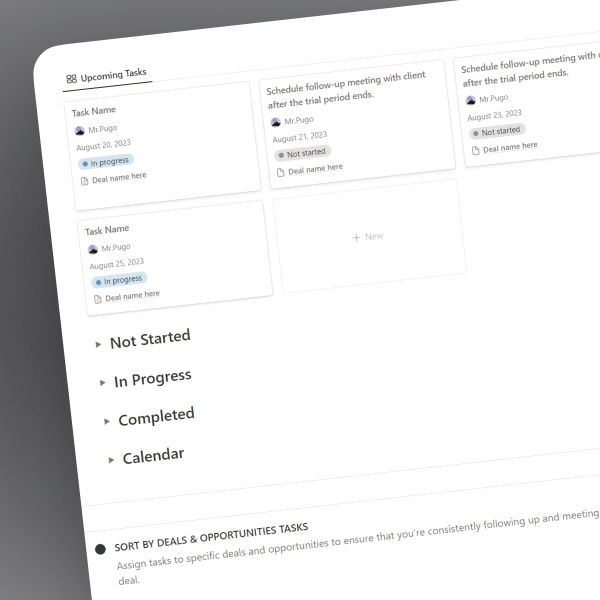 Task and Activity Management
Assign tasks, set deadlines, and synchronize with calendars for impeccable task management. Stay organized and on top of your daily activities.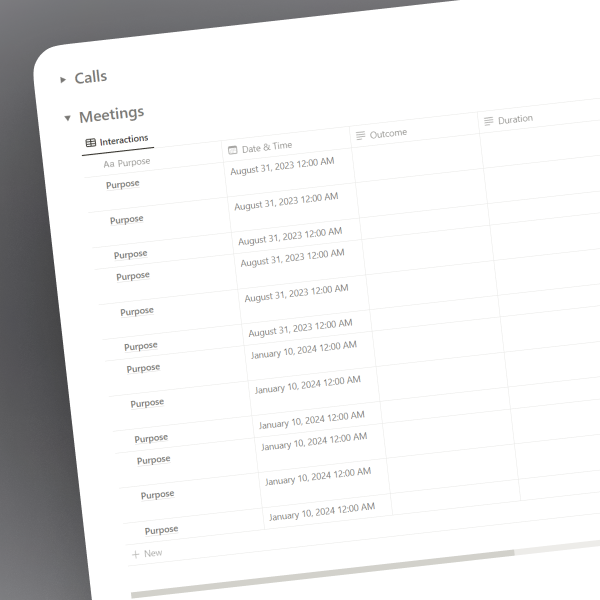 Record all client interactions, calls, emails, and meetings. Create a comprehensive communication history for personalized engagements.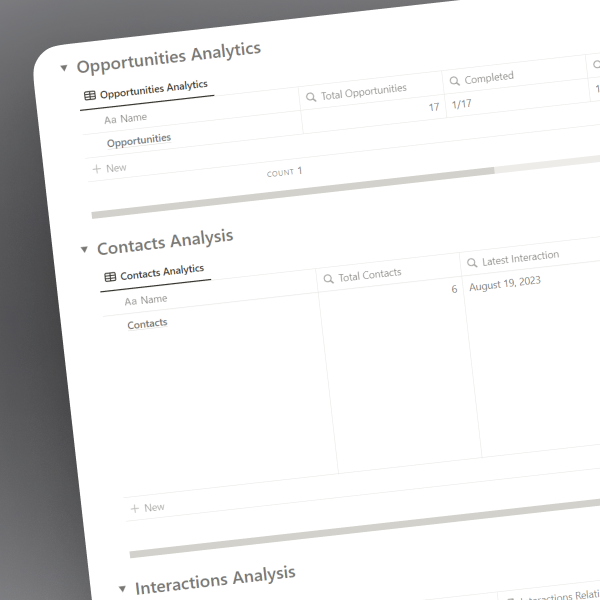 Gain valuable insights into your sales performance with visually appealing graphs and charts. Monitor conversion rates, win rates, and individual team member performance.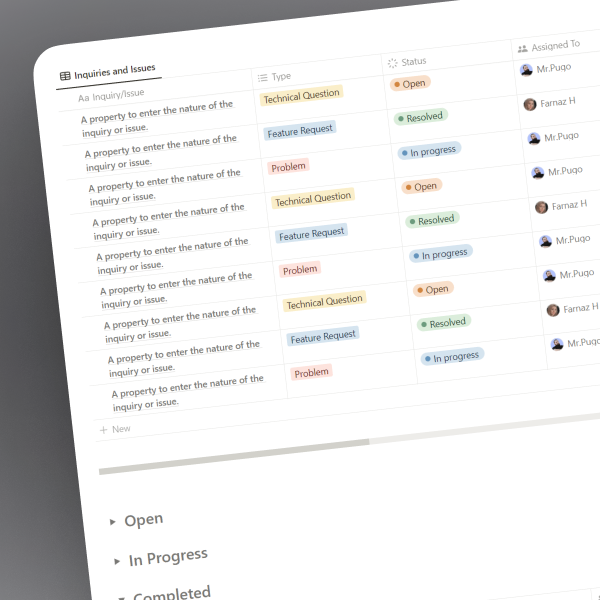 Support and Help Desk Management
Effortlessly manage customer inquiries and issues, assign support tickets, and monitor response times for enhanced customer satisfaction.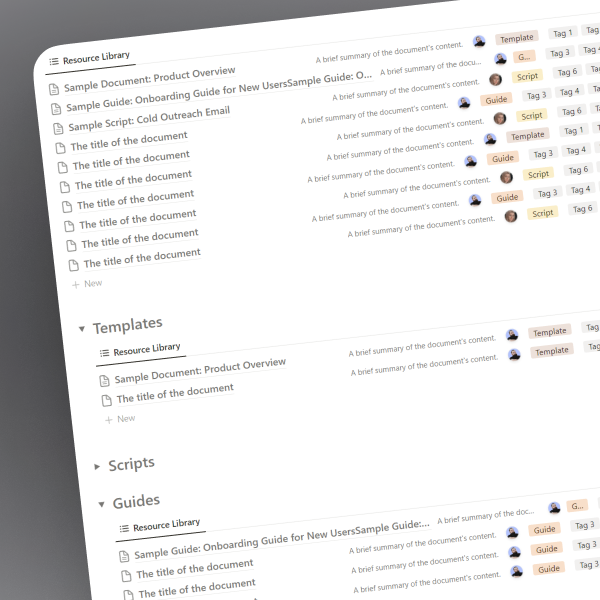 Centralize your sales-related documentation, scripts, templates, and guides for easy reference and training.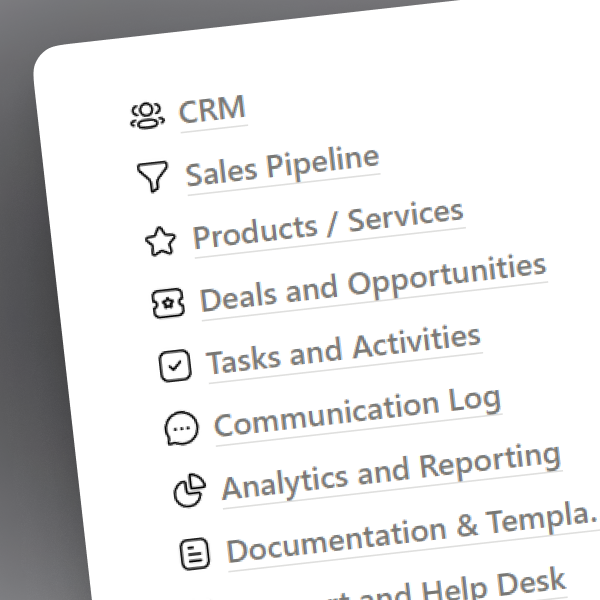 Tailor your dashboard with custom properties, filters, and views. Integrate with external tools and databases to fit your unique business needs.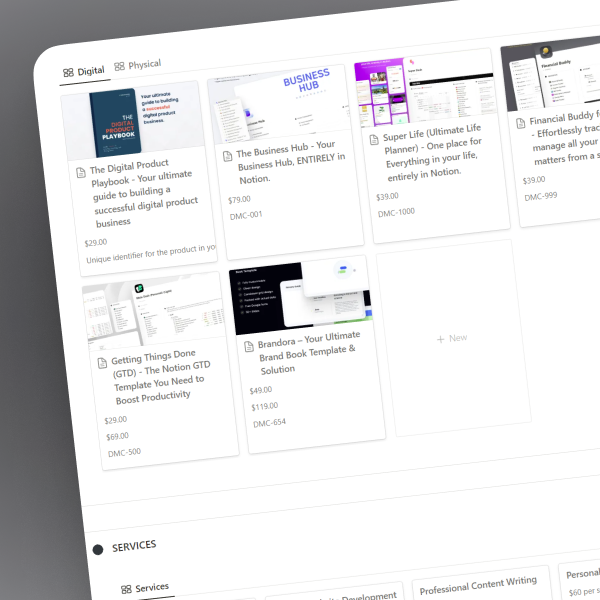 Products and Services Management: Effortlessly manage your products and services, whether digital or physical. Keep track of inventory, specifications, and details all in one place. Streamline your sales process by accessing essential product information without hassle.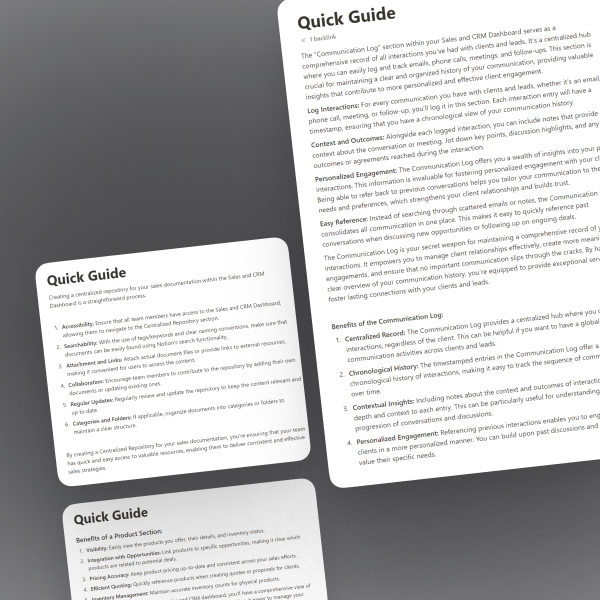 A step-by-step guide on setting up and optimizing your SalesPro Suite dashboard. Seamless integration instructions for external apps and practical tips for success.
Ready to elevate your sales game? Get SalesPro Suite Now!
Don't let your sales potential go untapped. Experience the future of sales management with SalesPro Suite. Unleash the power of streamlined processes, data-driven insights, and seamless collaboration. Transform your sales journey – one deal at a time.
Frequently asked questions
Is SalesPro Suite suitable for all types of businesses?
Absolutely! SalesPro Suite is designed to cater to a wide range of industries and businesses, from startups to established enterprises. Its customizable features make it adaptable to your unique sales processes.
Do I need technical expertise to set up SalesPro Suite?
Not at all. SalesPro Suite is built with user-friendliness in mind. The setup process is intuitive, and our comprehensive guide will walk you through each step.
Can I integrate SalesPro Suite with my existing tools?
Yes, you can! SalesPro Suite supports integration with various tools to streamline your workflow. From calendar apps to customer support software, you can seamlessly connect them to enhance your experience.
Is my data safe with SalesPro Suite?
Absolutely. We prioritize data security. Your information is stored within the secure environment of Notion. Plus, you have complete control over access permissions to ensure confidentiality.
Can SalesPro Suite be used by teams?
Certainly! SalesPro Suite is perfect for both individual entrepreneurs and teams. Its collaborative features enable teams to work together efficiently and achieve their sales goals.
Does SalesPro Suite provide customer support?
Yes, we're here for you. If you encounter any issues or have questions, our dedicated support team is ready to assist you.
Can I customize the dashboard to suit my business needs?
Absolutely! SalesPro Suite is designed to be flexible. You can customize it to align with your sales processes, stages, and terminology.
Is SalesPro Suite suitable for beginners?
Yes, it is. Even if you're new to CRM or sales management, SalesPro Suite's user-friendly interface and comprehensive guide will help you get started with ease.
Can I migrate my existing sales data into SalesPro Suite?
While SalesPro Suite doesn't have direct import features, you can manually transfer your data. This is an opportunity to refine and organize your information.
What's the difference between SalesPro Suite and Business Hub?
SalesPro Suite is a focused template for sales and CRM management. Business Hub is a broader template that covers various aspects of business management, including sales. You can find SalesPro Suite as a part of Business Hub, making it an even more comprehensive solution for your business needs.
Ready to take your sales to the next level?