Top Tips for Finding a Reliable Graphic Design Agency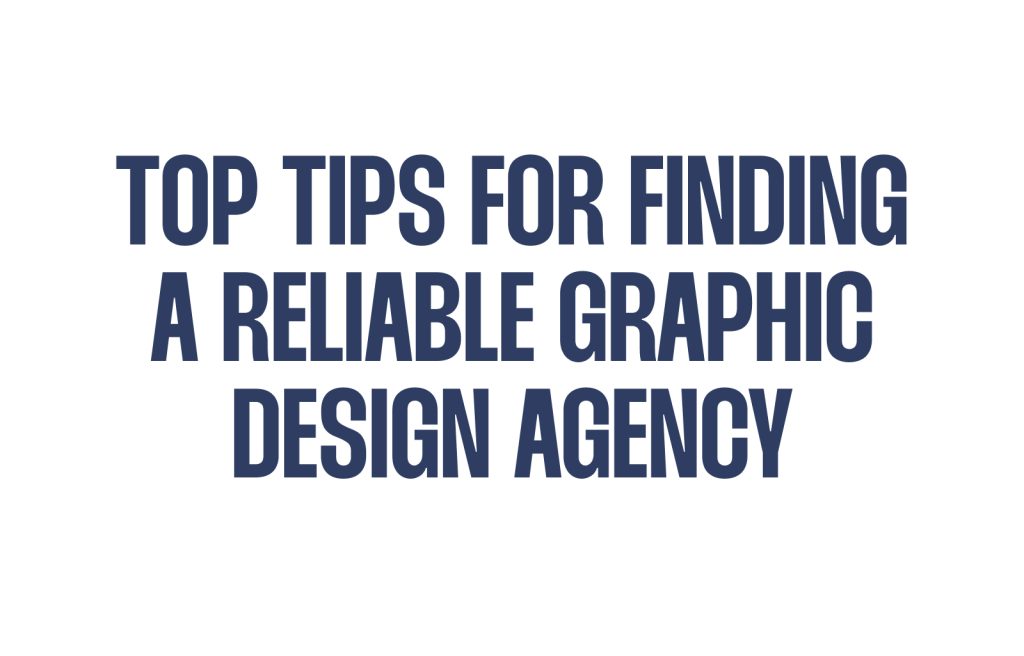 Finding a Reliable Graphic Design Agency: When it comes to making a lasting impression on your audience, the power of graphic design cannot be underestimated. Whether you need captivating visuals for your website, eye-catching marketing materials, or a memorable logo, partnering with a reliable graphic design agency is essential. Here are some top tips to help you find a graphic design agency that will bring your creative vision to life:
1. Define Your Design Needs
Before you start your search, clearly define your design needs. Determine the specific projects you require, such as website design, branding, print materials, or social media graphics. Having a clear idea of what you need will help you narrow down your search and find agencies with expertise in the relevant areas.
2. Explore Their Portfolio
Review the agency's portfolio to assess the quality and style of their previous work. Look for designs that resonate with your brand's aesthetics and target audience. A diverse portfolio showcasing a range of creative solutions indicates the agency's versatility and ability to handle various design projects.
3. Read Client Testimonials
Check for client testimonials and reviews to gain insights into the agency's reputation and client satisfaction. Positive feedback from previous clients is a strong indicator of the agency's professionalism and reliability.
4. Consider Industry Experience
Consider whether the graphic design agency has experience working with businesses in your industry. Industry-specific knowledge can be valuable, as the agency will understand the unique design requirements and preferences of your target audience.
5. Look for Creative Thinkers
A reliable graphic design agency should be more than just skilled technicians; they should be creative thinkers who can generate fresh ideas and innovative designs. Look for agencies that demonstrate creativity and a willingness to explore new concepts.
6. Check Their Communication Style
Effective communication is essential for successful design projects. Look for an agency that listens attentively to your requirements, asks clarifying questions, and communicates clearly throughout the design process. A strong client-agency communication ensures that your ideas are understood and translated into captivating designs.
7. Discuss Timelines and Deadlines
Inquire about the agency's ability to meet deadlines and their project turnaround times. Timely delivery is critical, especially for time-sensitive marketing campaigns. Ensure that the agency can work within your project timeline.
8. Assess Pricing and Budget
Discuss the agency's pricing structure and ensure that it aligns with your budget. While cost is a factor, it's crucial not to compromise on quality for the sake of a lower price. Look for an agency that offers competitive pricing while delivering exceptional designs.
9. Check Technical Expertise
For digital design projects, such as website design or social media graphics, assess the agency's technical expertise. Ensure that they are proficient in the necessary design software and tools to execute your projects effectively.
10. Seek a Long-Term Partner
Finding a reliable graphic design agency is not just about one-off projects; it's about establishing a long-term partnership. Look for an agency that is willing to grow with your business and provide ongoing design support as your needs evolve.
Conclusion on Finding a Reliable Graphic Design Agency
Investing in the services of a reliable graphic design agency can elevate your brand's visual identity and make a significant impact on your marketing efforts. By following these top tips and conducting thorough research, you can find a creative and dependable agency that will help you stand out in a competitive market. Take your time to evaluate your options, as choosing the right graphic design partner is a critical step towards achieving your business goals.
---
Introducing Unlimited Design: Your Secret Weapon for Stunning Visuals on Demand!
Are you an ambitious solopreneur or entrepreneur looking to take your brand visuals to the next level? Say goodbye to design limitations and hello to unlimited possibilities with our game-changing Unlimited Design service!
Unlock the power of outsourcing and revolutionize the way you handle your design needs. With our subscription-based model, you gain access to a dedicated team of talented designers, ready to bring your creative visions to life whenever you need them. No more worrying about project budgets or negotiating prices – our flat-rate subscription ensures a consistent and predictable investment in your brand's success.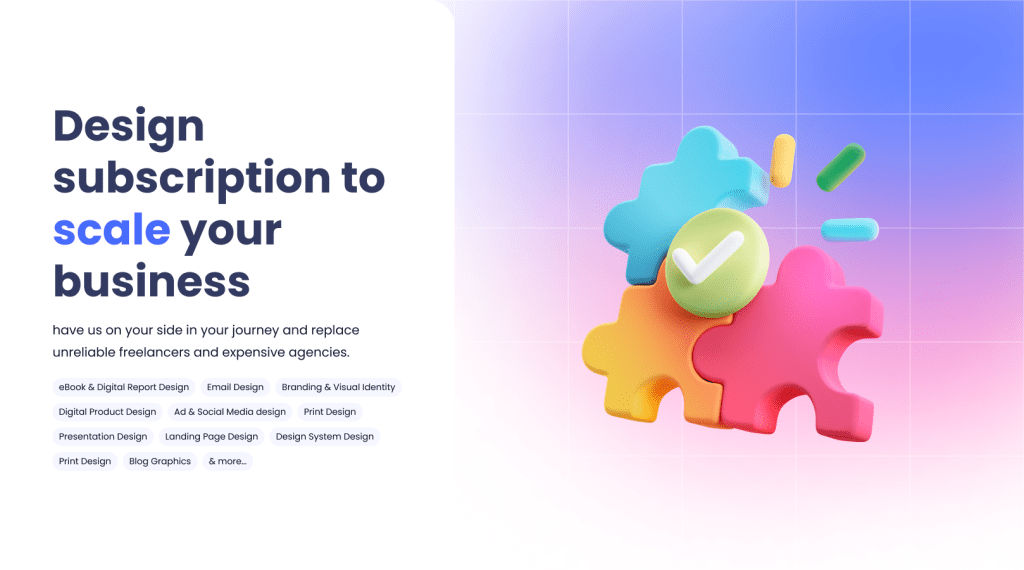 Imagine having a team of experts at your fingertips, ready to handle all your design tasks. From eye-catching logos and captivating social media graphics to stunning website elements and irresistible marketing materials, our skilled designers cover it all. With their specialized expertise, they'll transform your ideas into visual masterpieces that truly reflect your brand's identity and captivate your target audience.
Flexibility is the name of the game.
Need a last-minute design for a new product launch? No problem! Our unlimited design service empowers you to adapt quickly to market changes and stay ahead of the competition. Simply submit your requests, and our team will work their magic, delivering top-notch designs within record time.
Collaboration has never been easier.
Our streamlined communication channels ensure that your feedback and revisions are heard loud and clear. We value your input and strive to create designs that exceed your expectations. With our dedicated support, you'll experience a seamless design process that saves you time, eliminates headaches, and lets you focus on what you do best – growing your business.
Don't let design limitations hold you back.
Embrace the power of unlimited creativity with our cutting-edge Unlimited Design service. Scale your business, build a strong brand identity, and leave a lasting impact on your audience with stunning visuals that set you apart from the crowd.
Ready to revolutionize your design game? Sign up for our Unlimited Design service today and unleash the true potential of your brand!
---