How to Choose the Right Creative Design Agency for Your Business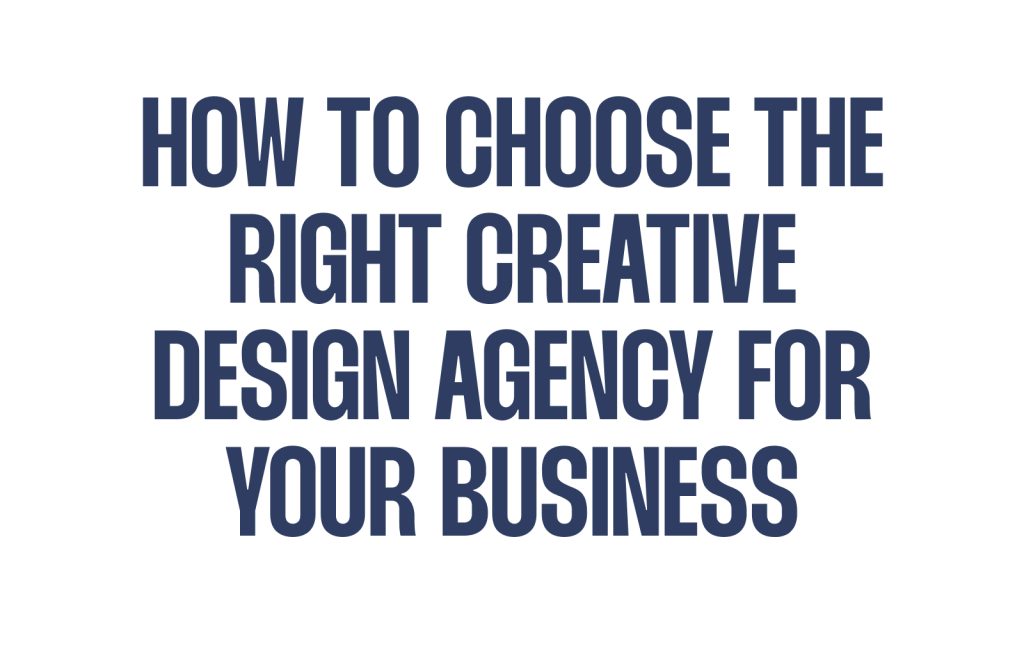 Choose the Right Creative Design Agency: Choosing the right creative design agency is a crucial decision that can significantly impact your business's success. Whether you need graphic design services, product design expertise, or UX/UI solutions, finding the right agency with the right skill set and approach is essential. Here are some steps to help you choose the perfect creative design agency for your business:
1. Define Your Project Requirements
Before you start searching for a creative design agency, clearly define your project requirements. Determine what specific design services you need, whether it's logo design, website development, packaging design, or user interface design. Having a clear scope of work will help you narrow down your options and find agencies that specialize in the services you require.
2. Assess Their Portfolio
Review the portfolios of potential design agencies to evaluate their style, creativity, and quality of work. Look for projects that align with your brand's vision and aesthetic preferences. A diverse and impressive portfolio indicates the agency's ability to handle various design challenges and deliver outstanding results.
3. Check Client Testimonials and Reviews
Client testimonials and online reviews provide valuable insights into the agency's reputation and client satisfaction. Check for reviews on platforms like Google, Clutch, or Yelp to gauge the agency's professionalism, communication, and project management skills.
4. Consider Industry Experience
Consider whether the design agency has experience working with businesses in your industry. Industry-specific knowledge can be advantageous, as the agency will have a better understanding of your target audience and market dynamics.
5. Evaluate Their Creativity and Innovation
Creativity and innovation are vital in the design industry. Look for an agency that pushes boundaries and brings fresh ideas to the table. Avoid agencies that seem to replicate generic designs or lack originality.
6. Assess Their Communication and Collaboration Style
Effective communication and collaboration are essential for successful design projects. Look for an agency that actively listens to your ideas and requirements and demonstrates a willingness to collaborate. A transparent and open communication style is crucial for a smooth working relationship.
7. Discuss Timelines and Project Management
Inquire about the agency's project management process and their ability to meet deadlines. Timely delivery is critical for any design project, and you want to ensure that the agency can adhere to your project timeline.
8. Consider Budget and Pricing
Discuss the agency's pricing structure and ensure it aligns with your budget. Be wary of agencies with significantly lower prices, as they may compromise on quality. Look for an agency that offers competitive pricing while delivering high-quality work.
9. Assess their Technical Expertise
For digital design projects, such as website development or app design, assess the agency's technical expertise. Ensure they are proficient in the necessary software and technologies to execute your project effectively.
10. Arrange a Consultation
Arrange a consultation or meeting with the shortlisted design agencies. This will give you an opportunity to discuss your project in detail, ask questions, and get a sense of their approach and enthusiasm for your project.
Conclusion on how to Choose the Right Creative Design Agency
Choosing the right creative design agency requires careful consideration of their capabilities, experience, and fit with your project needs. By following these steps and conducting thorough research, you can find a design agency that not only meets your expectations but also becomes a valuable partner in achieving your business's creative vision. Take your time in making this decision, as partnering with the right agency can significantly contribute to the success and growth of your business.
---
Introducing Unlimited Design: Your Secret Weapon for Stunning Visuals on Demand!
Are you an ambitious solopreneur or entrepreneur looking to take your brand visuals to the next level? Say goodbye to design limitations and hello to unlimited possibilities with our game-changing Unlimited Design service!
Unlock the power of outsourcing and revolutionize the way you handle your design needs. With our subscription-based model, you gain access to a dedicated team of talented designers, ready to bring your creative visions to life whenever you need them. No more worrying about project budgets or negotiating prices – our flat-rate subscription ensures a consistent and predictable investment in your brand's success.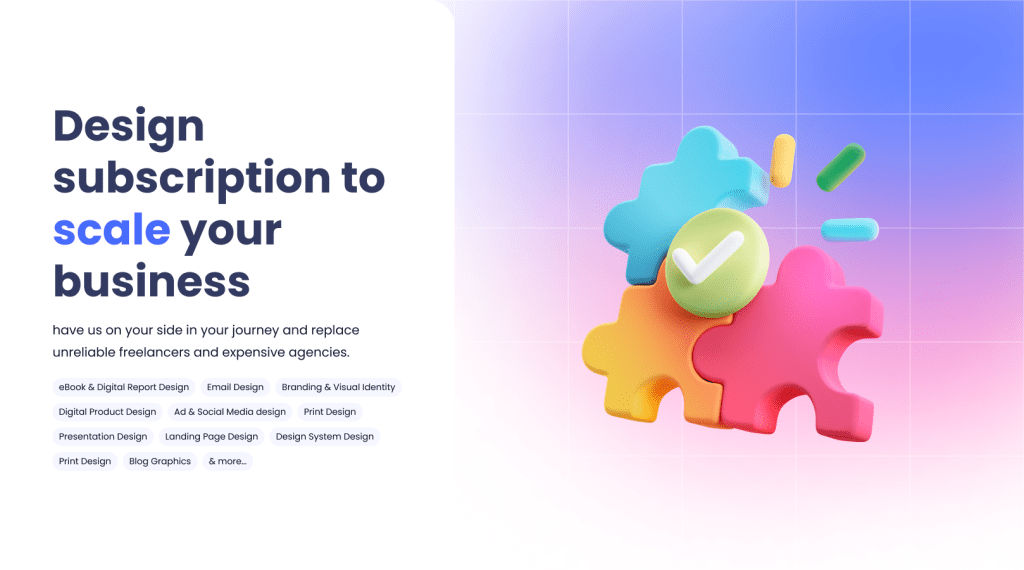 Imagine having a team of experts at your fingertips, ready to handle all your design tasks. From eye-catching logos and captivating social media graphics to stunning website elements and irresistible marketing materials, our skilled designers cover it all. With their specialized expertise, they'll transform your ideas into visual masterpieces that truly reflect your brand's identity and captivate your target audience.
Flexibility is the name of the game. Need a last-minute design for a new product launch? No problem! Our unlimited design service empowers you to adapt quickly to market changes and stay ahead of the competition. Simply submit your requests, and our team will work their magic, delivering top-notch designs within record time.
Collaboration has never been easier. Our streamlined communication channels ensure that your feedback and revisions are heard loud and clear. We value your input and strive to create designs that exceed your expectations. With our dedicated support, you'll experience a seamless design process that saves you time, eliminates headaches, and lets you focus on what you do best – growing your business.
Don't let design limitations hold you back. Embrace the power of unlimited creativity with our cutting-edge Unlimited Design service. Scale your business, build a strong brand identity, and leave a lasting impact on your audience with stunning visuals that set you apart from the crowd.
Ready to revolutionize your design game? Sign up for our Unlimited Design service today and unleash the true potential of your brand!
---