Unleashing Imagination: Exploring the Realm of Creative Agencies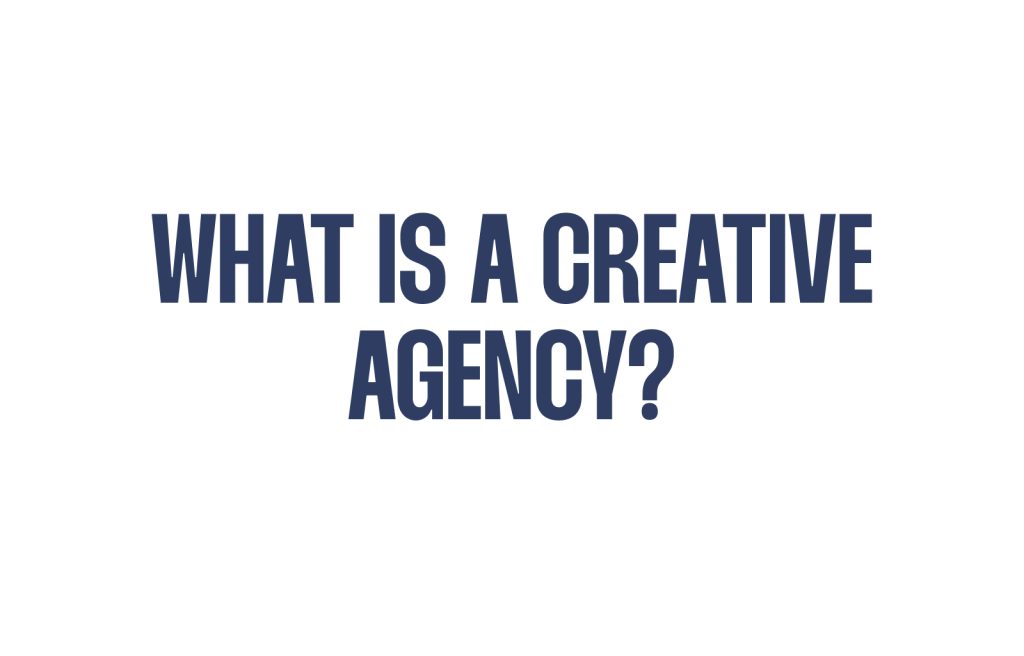 In today's fast-paced and competitive business landscape, standing out from the crowd is more critical than ever. Whether you're a small startup or an established company, capturing your target audience's attention and leaving a lasting impression requires a touch of creativity. This is where creative agencies step in. But what exactly does a creative agency do? Join us as we embark on a journey to unravel the magic and significance of these creative powerhouses.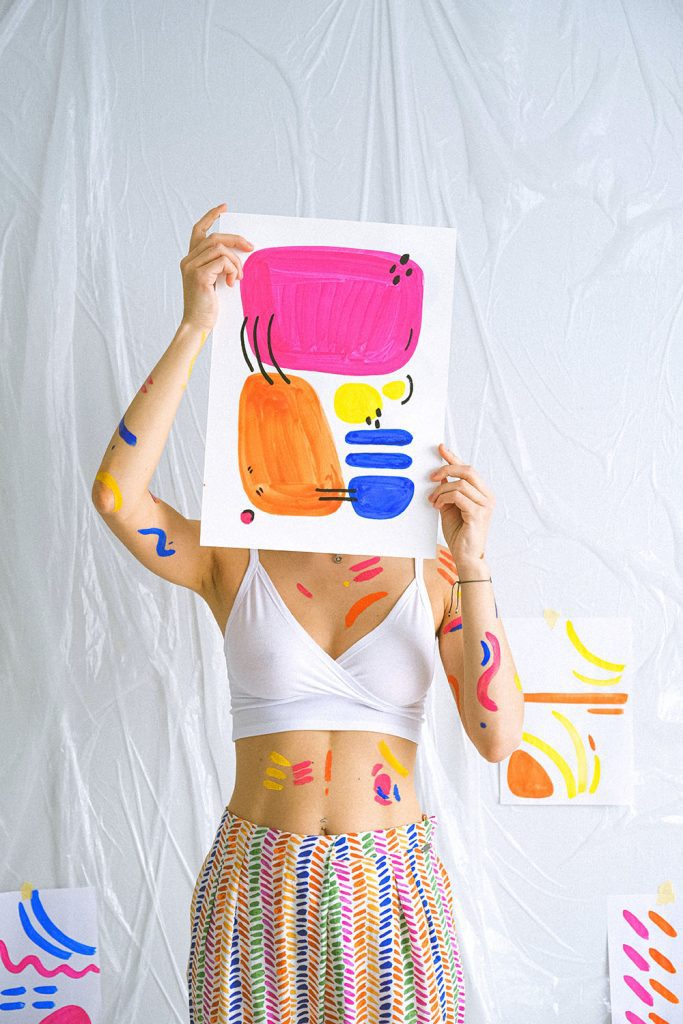 Understanding the Essence of a Creative Agency:
What does a creative agency do?
A creative agency is a dynamic hub of artistic minds and strategic thinkers who are dedicated to helping businesses and brands express their unique identities. They are a one-stop destination for all things creative, offering a wide range of services that encompass advertising, branding, marketing, design, and digital solutions. Essentially, they are the catalysts that transform concepts into captivating visuals, narratives, and experiences.
Services Offered by Creative Agencies:
Brand Strategy and Development: Creative agencies play a crucial role in shaping a brand's identity. They collaborate closely with their clients to understand their vision, values, and target audience. Based on this understanding, they develop comprehensive brand strategies that encompass everything from brand positioning and messaging to visual identity and tone of voice.
Design and Visual Communication: The visual aspect of a brand is often the first point of contact for consumers. Creative agencies employ talented graphic designers, illustrators, and artists who translate ideas into visually compelling designs. From logos and packaging to websites and social media graphics, these experts craft visually stunning assets that resonate with the brand's essence.
Advertising and Marketing Campaigns: Creative agencies excel in creating memorable advertising and marketing campaigns that captivate audiences. They leverage their expertise to conceptualize and execute innovative ideas that engage and persuade consumers. By employing a mix of traditional and digital advertising channels, they ensure the brand's message reaches the right people at the right time.
Content Creation: In today's content-driven era, creative agencies are instrumental in crafting engaging and relevant content across various platforms. They develop captivating storytelling strategies, produce videos, write compelling copy, and curate social media content to keep audiences hooked. By understanding the target audience's preferences, they ensure the content resonates and generates a positive brand association.
Digital Solutions: Creative agencies possess a deep understanding of digital trends and technology. They create responsive websites, develop mobile applications, and optimize user experiences. Their digital expertise helps brands navigate the ever-evolving digital landscape, ensuring they remain relevant and accessible to their target audience.
The Collaborative Process:
Collaboration is at the core of a creative agency's modus operandi. They work closely with their clients, fostering open communication channels to understand their needs, goals, and challenges. The agency then infuses their creative expertise, brainstorming innovative solutions and presenting multiple options. Through an iterative process, client feedback is incorporated until the final product is achieved.
The Value of a Creative Agency:
Outside Perspective: Creative agencies bring fresh perspectives to the table, enabling businesses to think outside the box and break free from the mundane. Their objective viewpoint and diverse skill sets help in identifying untapped opportunities and differentiating a brand from its competitors.
Expertise and Specialization: With their wealth of experience and specialized skill sets, creative agencies are equipped to handle complex projects across various industries. They stay updated with the latest trends, technologies, and best practices, ensuring their clients receive cutting-edge solutions tailored to their unique requirements.
Time and Cost Efficiency: Outsourcing creative tasks to a specialized agency allows businesses to focus on their core competencies while saving time and resources. Creative agencies possess the necessary tools, software, and expertise to deliver high-quality results efficiently, eliminating the need for businesses to invest in these resources.
Conclusion:
In a world where attention spans are fleeting and competition is fierce, a creative agency acts as a guiding light, illuminating the path to success. Their ability to merge imagination with strategy empowers businesses to unleash their full potential and leave a lasting impact on their target audience. By partnering with a creative agency, brands can navigate the ever-changing landscape of creativity and emerge as beacons of innovation and distinction.
---
Introducing Unlimited Design: Your Secret Weapon for Stunning Visuals on Demand!
Are you an ambitious solopreneur or entrepreneur looking to take your brand visuals to the next level? Say goodbye to design limitations and hello to unlimited possibilities with our game-changing Unlimited Design service!
Unlock the power of outsourcing and revolutionize the way you handle your design needs. With our subscription-based model, you gain access to a dedicated team of talented designers, ready to bring your creative visions to life whenever you need them. No more worrying about project budgets or negotiating prices – our flat-rate subscription ensures a consistent and predictable investment in your brand's success.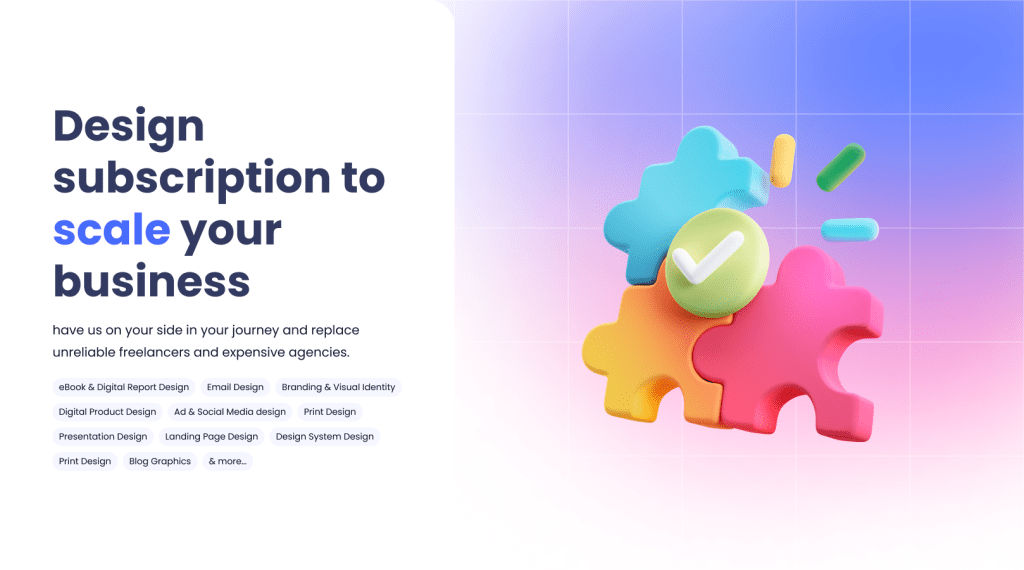 Imagine having a team of experts at your fingertips, ready to handle all your design tasks. From eye-catching logos and captivating social media graphics to stunning website elements and irresistible marketing materials, our skilled designers cover it all. With their specialized expertise, they'll transform your ideas into visual masterpieces that truly reflect your brand's identity and captivate your target audience.
Flexibility is the name of the game.
Need a last-minute design for a new product launch? No problem! Our unlimited design service empowers you to adapt quickly to market changes and stay ahead of the competition. Simply submit your requests, and our team will work their magic, delivering top-notch designs within record time.
Collaboration has never been easier.
Our streamlined communication channels ensure that your feedback and revisions are heard loud and clear. We value your input and strive to create designs that exceed your expectations. With our dedicated support, you'll experience a seamless design process that saves you time, eliminates headaches, and lets you focus on what you do best – growing your business.
Don't let design limitations hold you back.
Embrace the power of unlimited creativity with our cutting-edge Unlimited Design service. Scale your business, build a strong brand identity, and leave a lasting impact on your audience with stunning visuals that set you apart from the crowd.
Ready to revolutionize your design game? Sign up for our Unlimited Design service today and unleash the true potential of your brand!
---