Mastering Business Management: Introducing the Notion Business Hub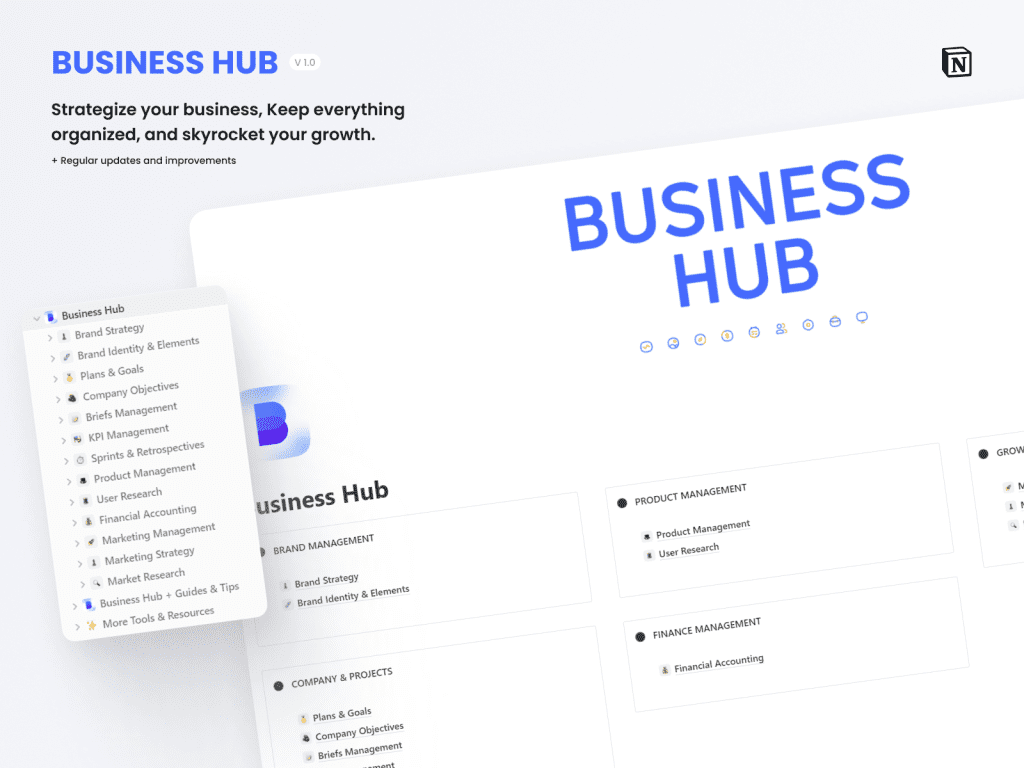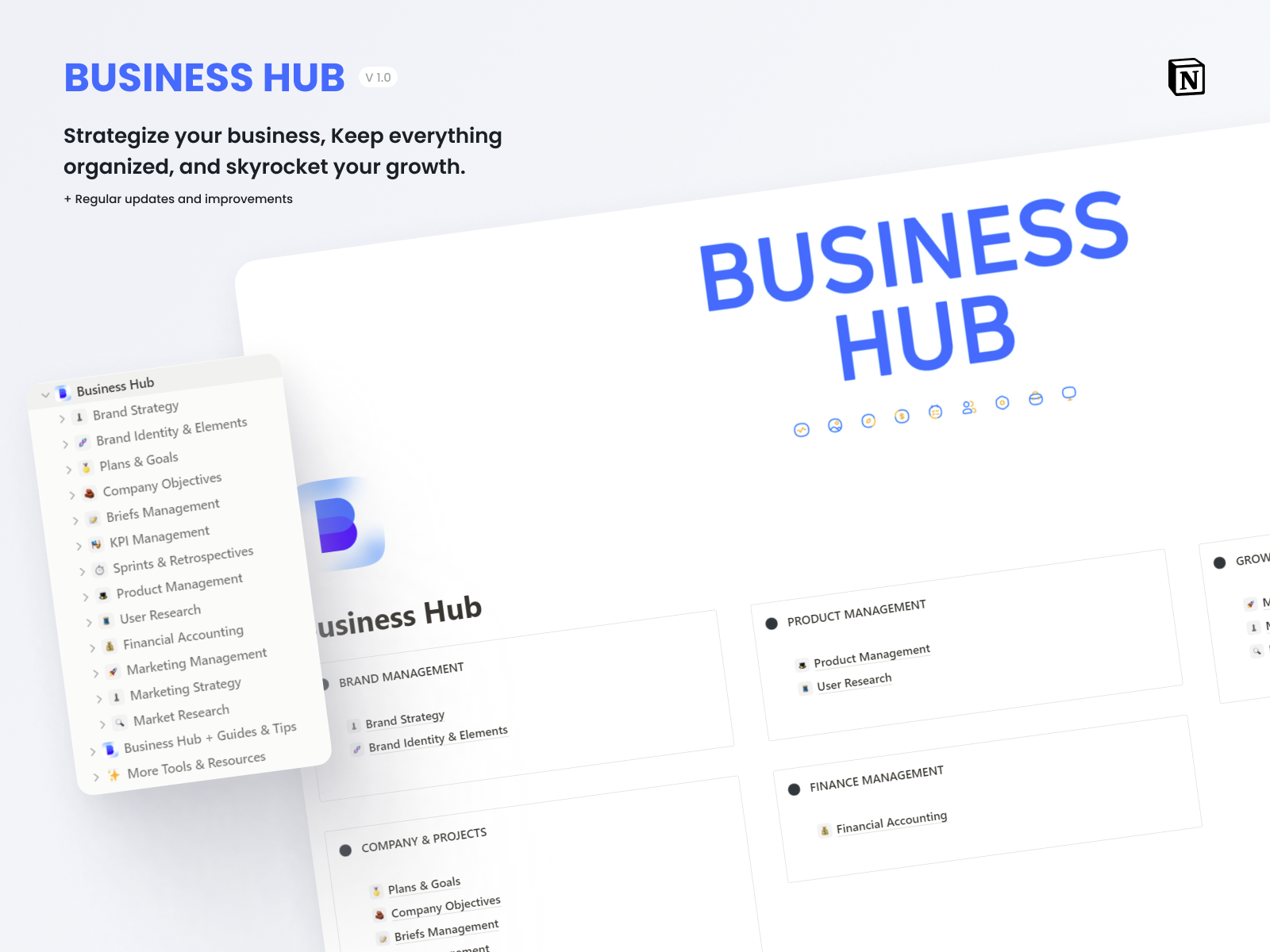 Introducing the Notion Business Hub: In today's fast-paced business landscape, organization, collaboration, and strategic growth are paramount to success. Introducing the Notion Business Hub, a revolutionary all-in-one workspace designed to elevate your business management practices to unparalleled heights. This comprehensive Notion template is your key to seamless organization, enhanced collaboration, and optimized efficiency, all while nurturing a unified brand identity and driving data-driven decisions. Say goodbye to scattered tools and fragmented processes – Business Hub transforms Notion into your ultimate business companion.
The Notion Business & Startup Template offers a transformative experience for businesses of all sizes. From startups seeking a strong foundation to established enterprises aiming to streamline their operations, Business Hub is your go-to solution. Crafted with precision and versatility in mind, this template empowers you to capture, organize, and manage every facet of your business within a single Notion workspace.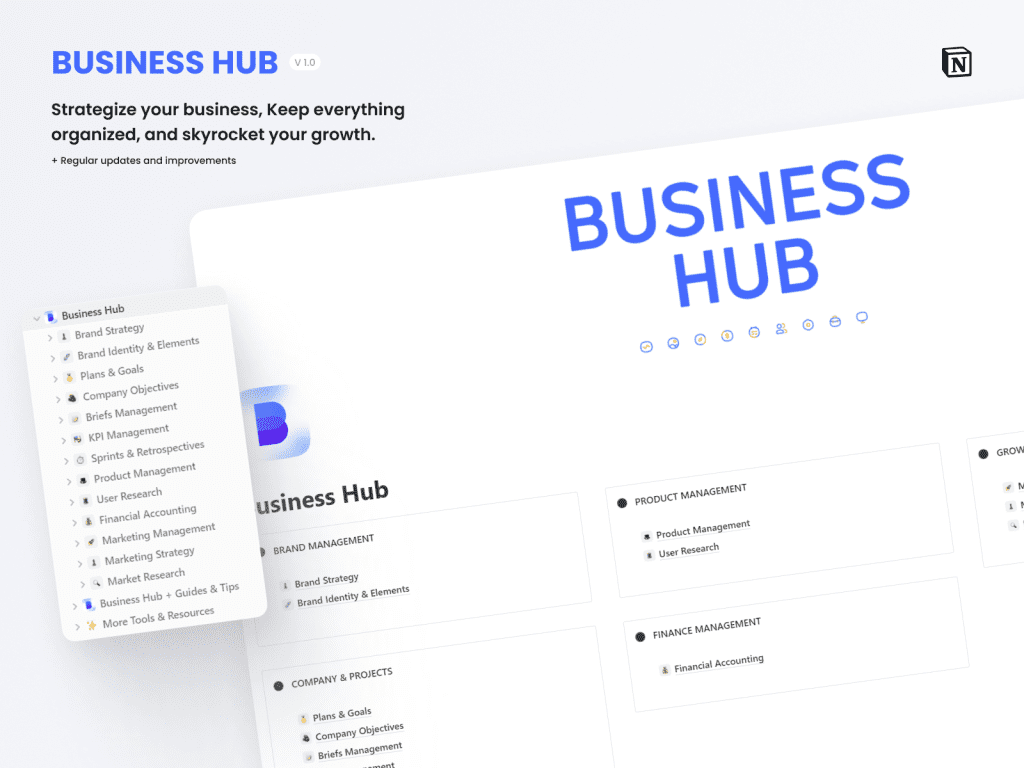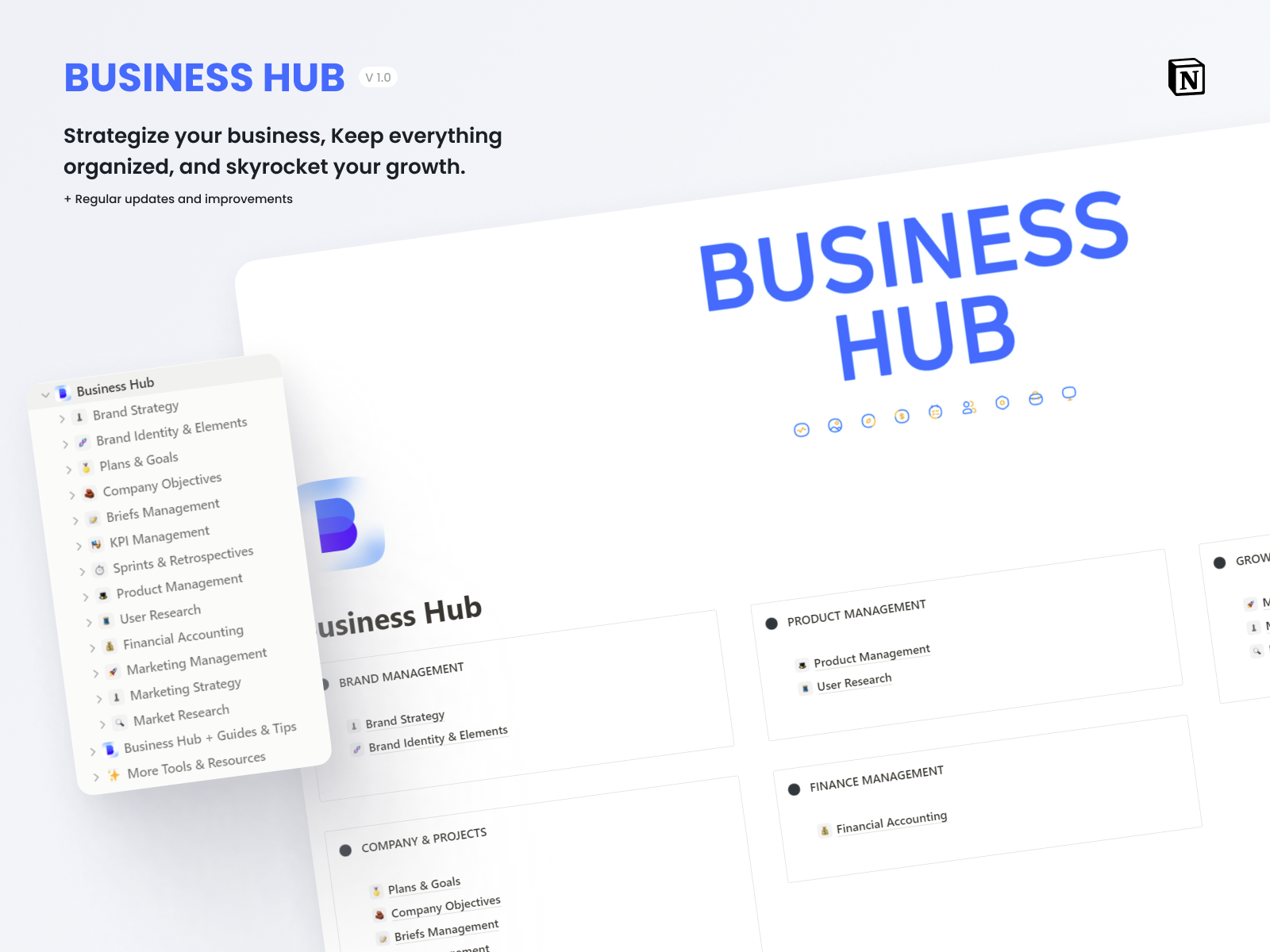 Streamlined Organization, Amplified Efficiency with Business Hub
Imagine seamlessly tracking projects, managing marketing strategies, overseeing financial aspects, nurturing brand identity, and fueling growth initiatives – all from one central hub. Business Hub's modular design ensures that every aspect of your business is organized and easily accessible. This modular approach allows you to iterate and create custom workspaces tailored to your specific needs, adapting to the dynamic demands of your business environment.
Empowering Growth and Collaboration
With Business Hub, you're not just managing tasks – you're fueling growth. The Growth Hub empowers you to breathe life into your growth plans, from creative brainstorming to campaign execution. It's your virtual powerhouse for managing teams, tasks, briefs, social media, blogs, routines, and more. Fuel your imagination, unleash your potential, and watch your growth strategies come to life.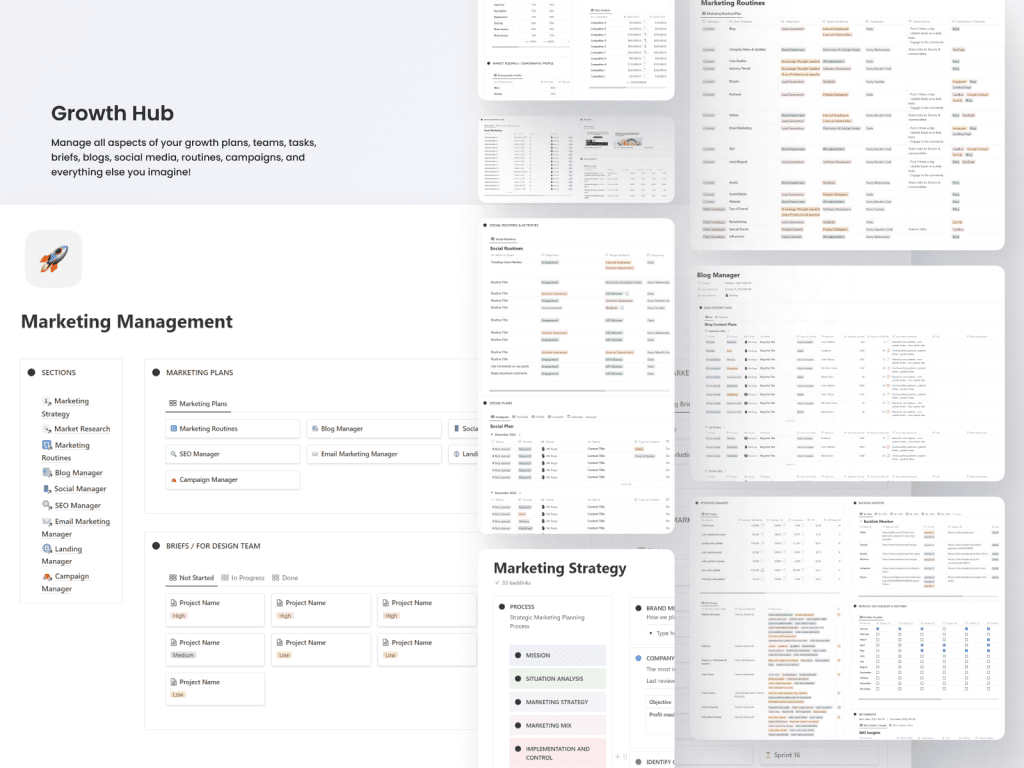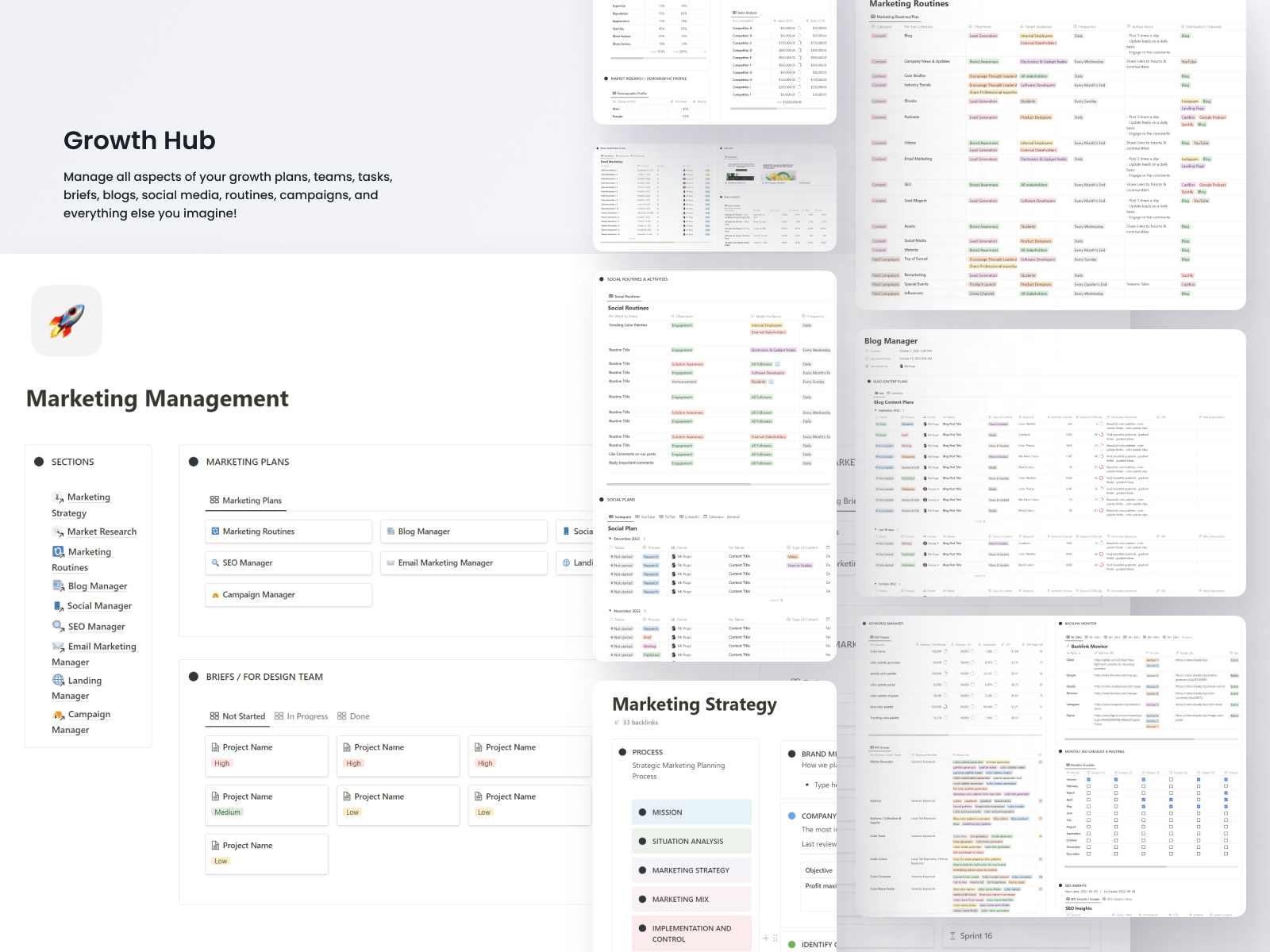 Craft Your Brand Identity, Elevate Your Presence
Brand Hub is your gateway to crafting a compelling brand identity. Establish and maintain brand cohesion effortlessly, from defining guidelines to managing brand assets. Elevate your brand's presence, resonate with your target audience, and stand out from the competition with Brand Hub.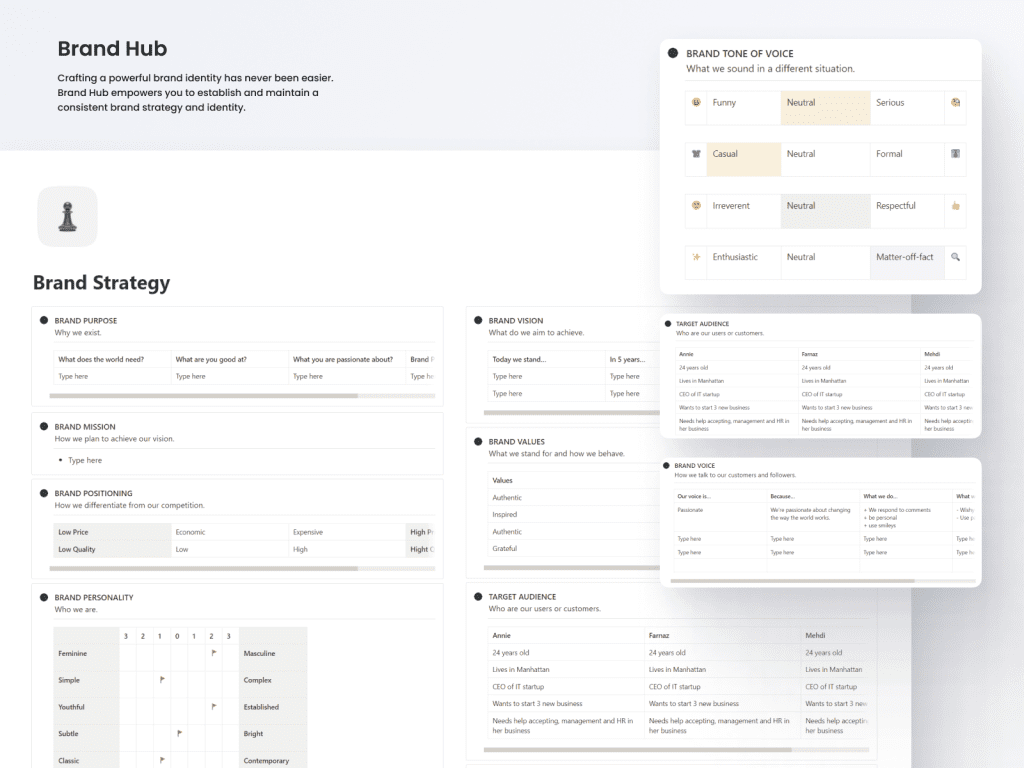 Project Management Perfected
Projects Hub revolutionizes project management, providing a centralized platform for planning, executing, and tracking projects. Assign tasks, set milestones, facilitate collaboration, and monitor progress – all within one dynamic workspace.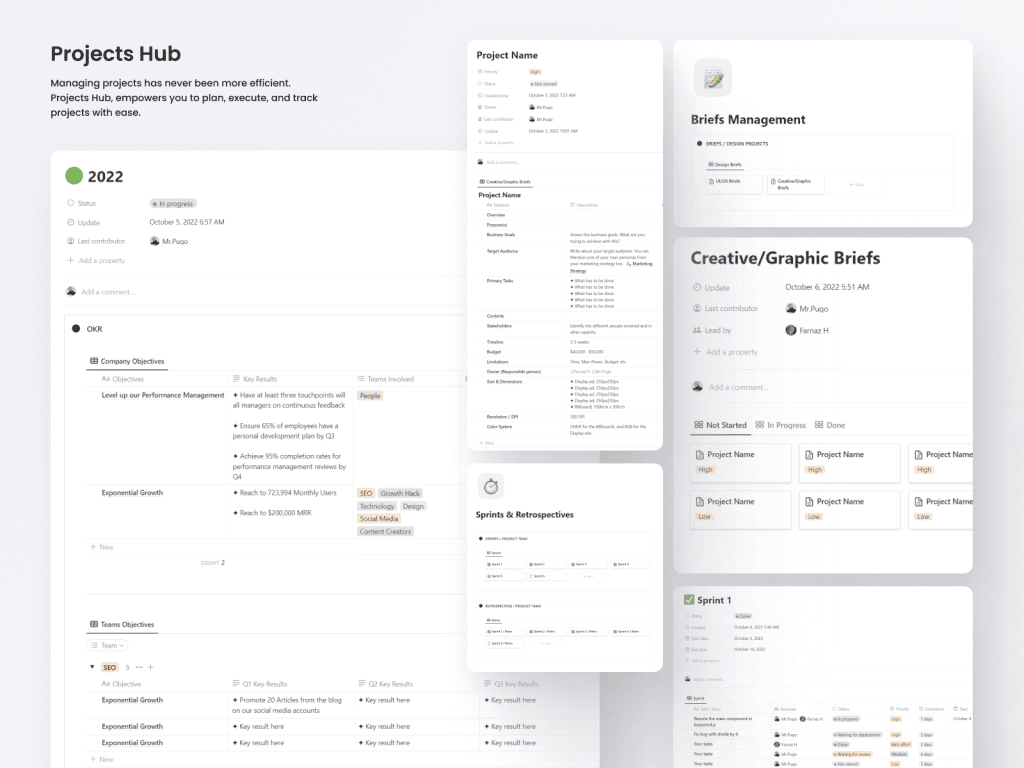 Your Business-Wide Vision, Realized
Plans and Goals ensure your business-wide objectives and OKRs are harmonized. Align teams and resources to drive focused progress and achievement.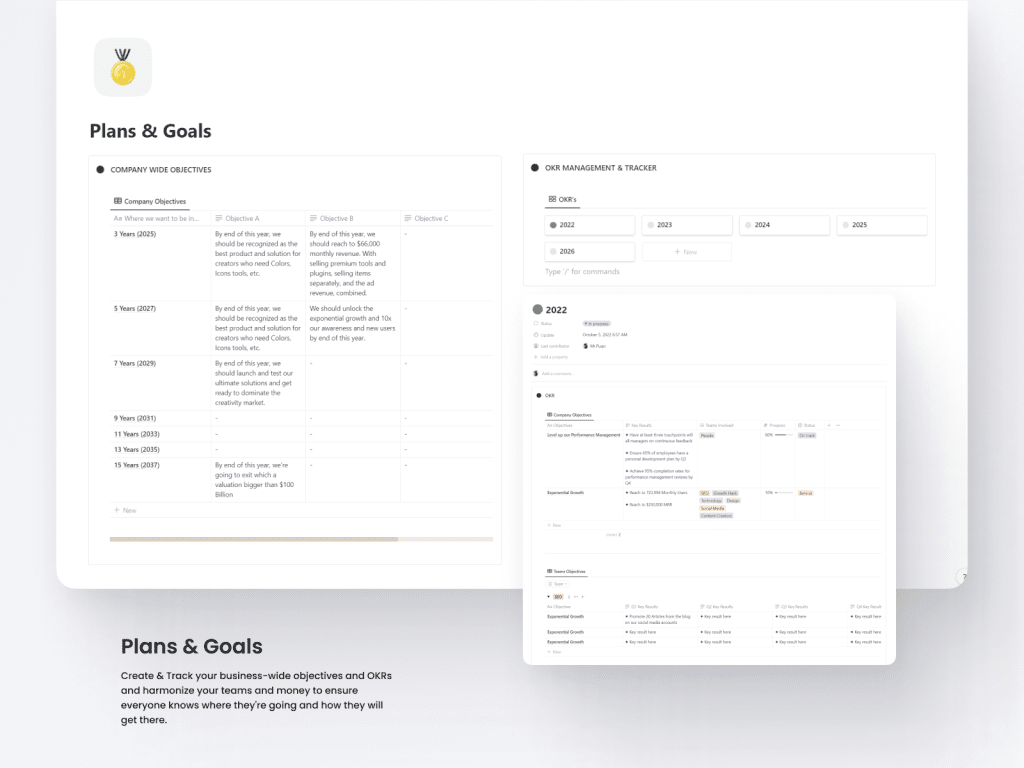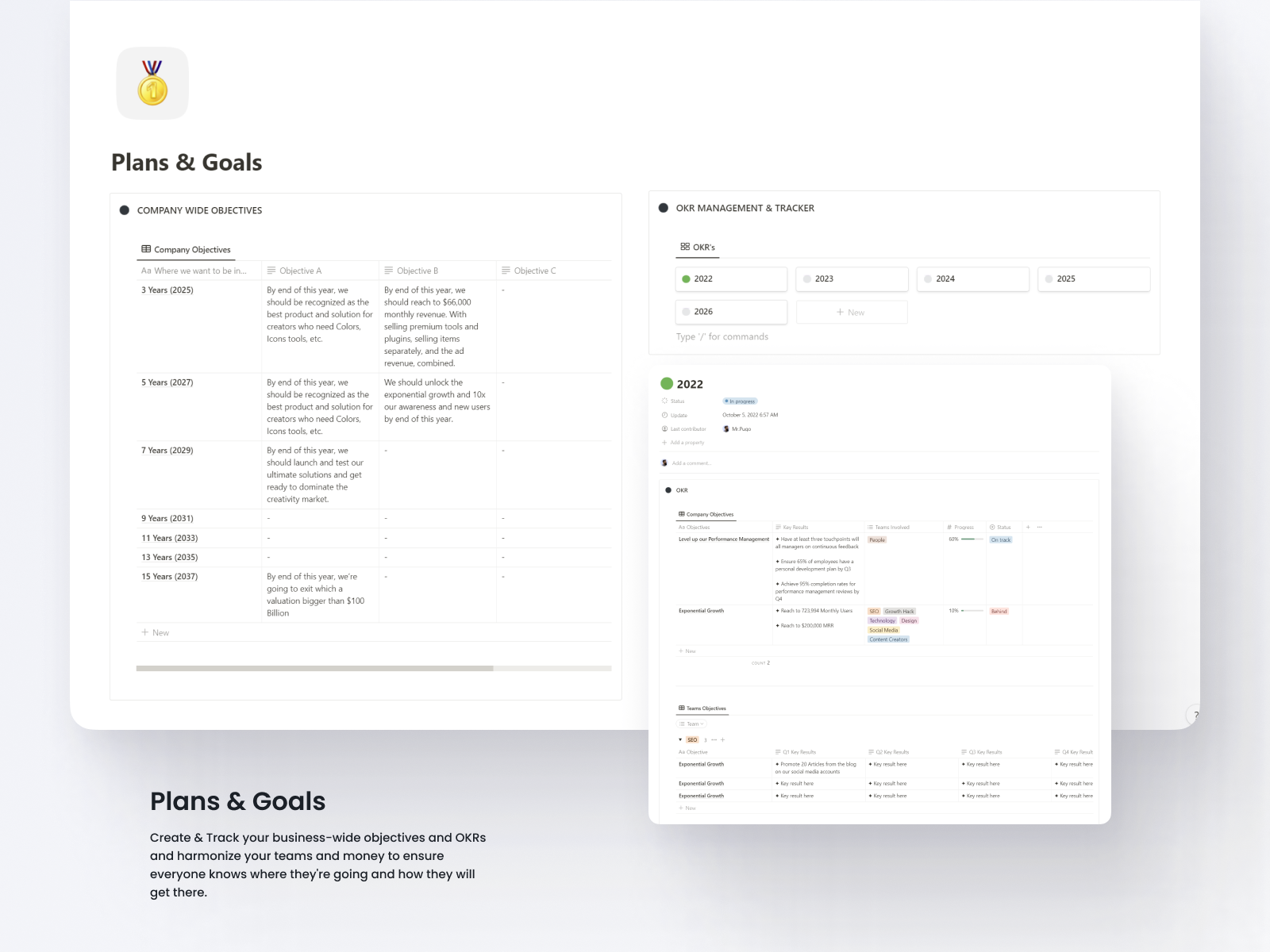 Navigating the Product Journey
Product Hub transforms product development. Manage features, track roadmaps, gather user feedback, and collaborate seamlessly across teams. Turn your product vision into reality and exceed customer expectations with Product Hub.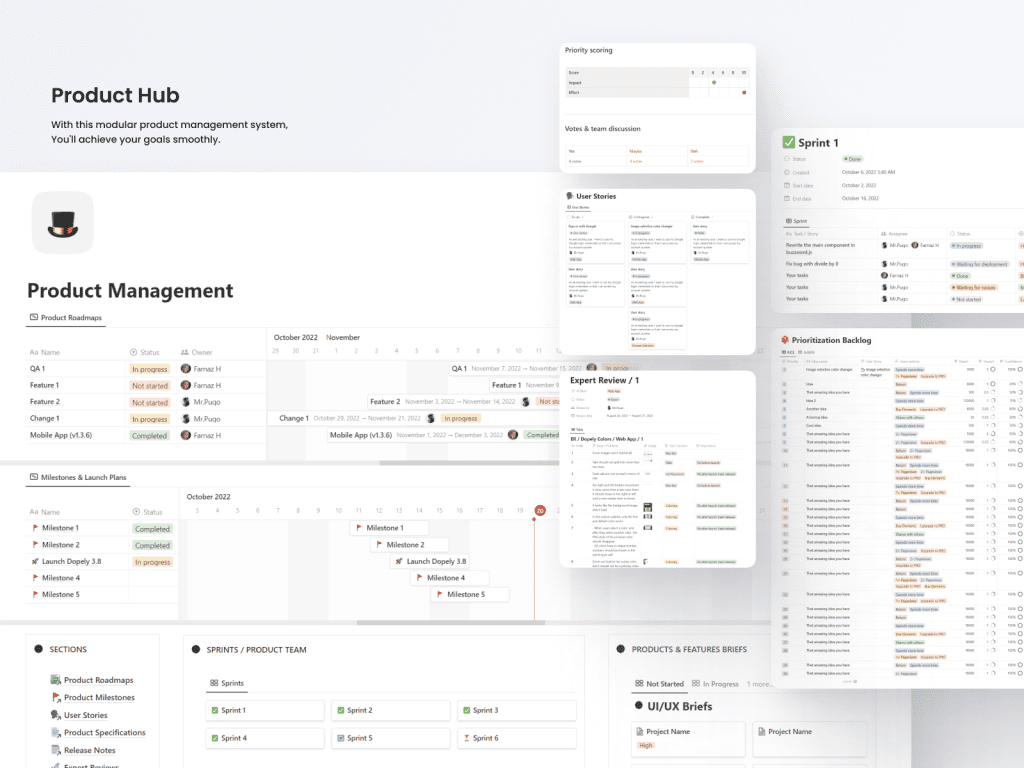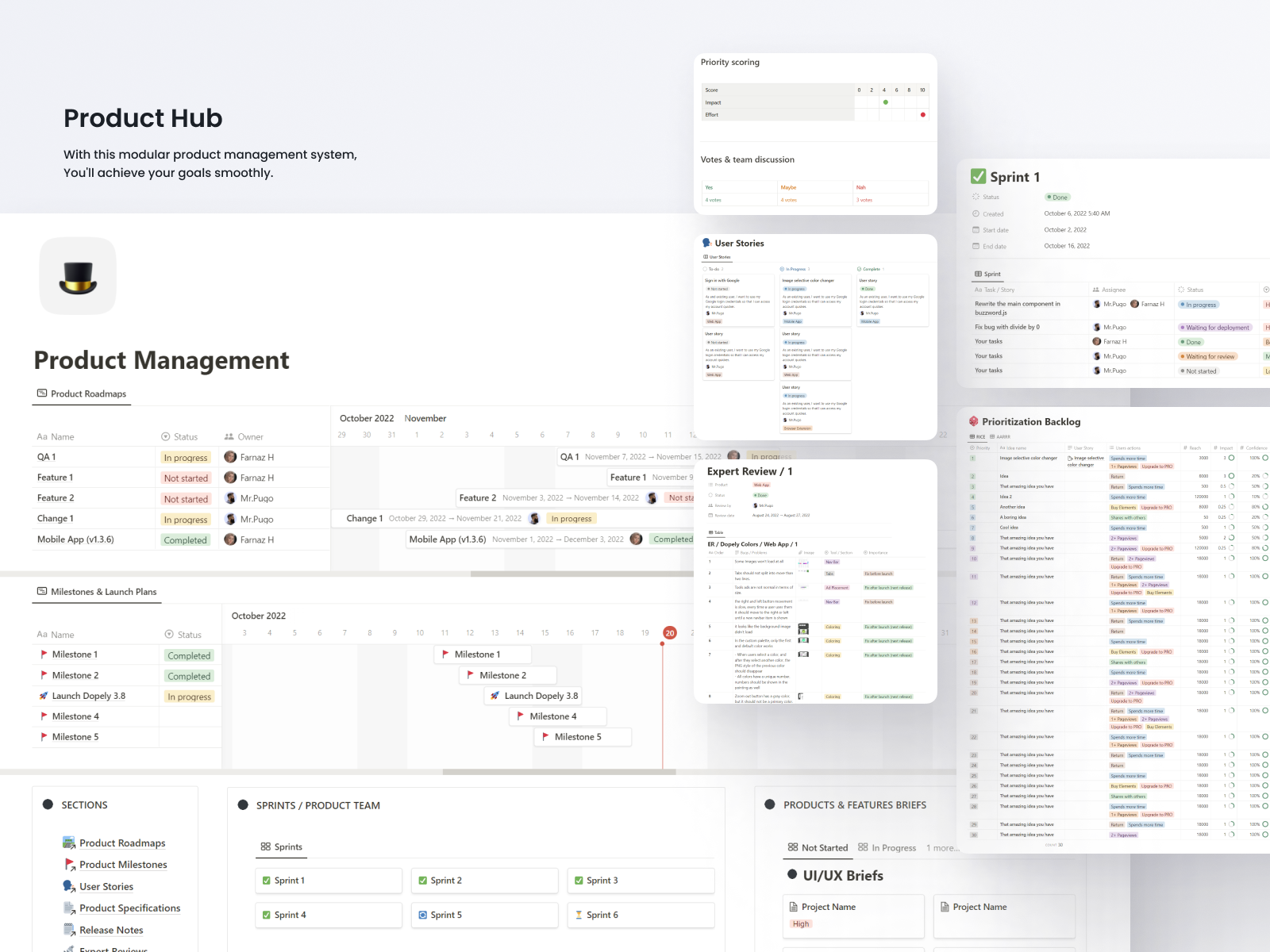 Unleash Data-Driven Decision-Making
Make informed decisions with Data Hub. Collect, analyze, and visualize data to uncover insights that drive your business forward.
Your Top Business Questions, Answered
Wondering if Business Hub is right for you? Get ready to embark on a journey of seamless organization, strategic growth, and empowered collaboration. Explore the answers to frequently asked questions about Business Hub and unlock your business's full potential.
1. What is Business Hub?
Business Hub is an all-in-one Notion template designed to centralize and streamline every aspect of your business. It provides a comprehensive workspace where you can manage and track products, marketing strategies, teams, projects, tasks, budgets, user research, and much more.
2. Can I customize Business Hub to fit my specific business needs?
Absolutely! Business Hub is highly customizable, allowing you to adapt it to your unique requirements. Notion's flexible interface lets you modify and expand the template to match your branding, workflows, and desired functionalities.
3. Is Business Hub suitable for startups and small businesses?
Yes! Business Hub is designed to cater to the needs of startups, small businesses, and online ventures. It offers a scalable solution that grows with your business and helps you stay organized and efficient throughout your journey.
4. Can I collaborate with my team using Business Hub?
Absolutely! Collaboration is at the core of Business Hub's design. With its intuitive interface and powerful features, you can seamlessly collaborate with your team members. Assign tasks, track progress, share updates, and maintain clear communication – all within the Business Hub environment. Whether you're working on projects, campaigns, or daily operations, Business Hub empowers your team to collaborate efficiently and achieve remarkable results together.
Load all frequently asked questions about the business hub.
Ready to propel your business to new heights? Don't miss out on the opportunity to join a thriving community of businesses that have harnessed the power of Business Hub. Elevate your management practices, enhance collaboration, and make data-driven decisions that redefine success. Unlock the Business Hub advantage today and transform your business journey.
Specialized for Individuals & Teams
Lifetime Access to Updates
Outstanding Support
Comprehensive Tutorials and Examples
Are you ready to revolutionize the way you manage your business? Dive into Business Hub and experience the future of business management, entirely in Notion. Get Business Hub now and embrace a new era of business success.
---