35 Business Services You Could Outsource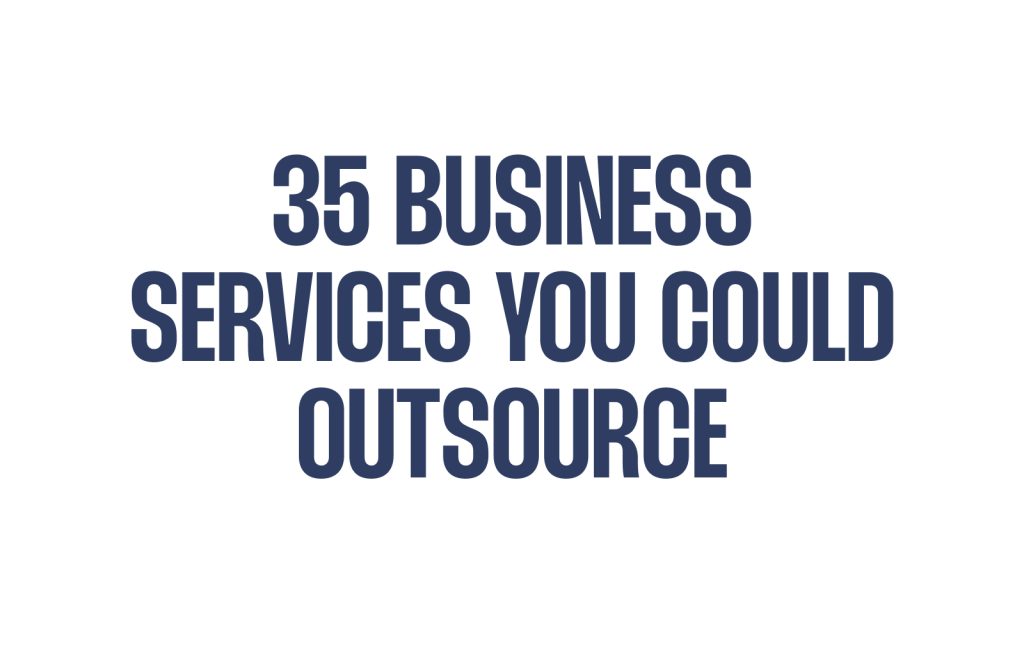 In today's rapidly evolving business landscape, outsourcing has become a strategic solution for organizations looking to optimize operations, reduce costs, and increase efficiency. From health and wellness services to data analytics, businesses can leverage a diverse range of outsourced services to stay competitive and focus on their core offerings. Let's explore 35 business services that you could outsource to enhance your business's productivity and success.
What are Business Services?
Business services encompass a wide array of activities that support other businesses but do not involve tangible commodity production. These services span various industries, including information technology, marketing, logistics, human resources, and more. They play a critical role in helping businesses function smoothly and efficiently, ensuring their success in today's competitive market.
35 Types of Business Services you Can Outsource
Health and Wellness Services: Offer comprehensive wellness initiatives to your employees, including corporate wellness programs, health consultations, on-site fitness classes, nutrition counseling, stress management workshops, and preventive health screenings.
Logistics Services: Streamline operations by outsourcing transportation, warehousing, inventory management, order fulfillment, and supply chain optimization to specialized logistics providers.
Personal Services: Ensure exceptional customer experiences by outsourcing customer service operations, personal assistant services, appointment scheduling, concierge services, and virtual receptionist services.
Information Technology Services: Leverage outsourced IT services such as software development, network management, cybersecurity, and data analysis to benefit from specialized expertise and advanced technology.
Financial Services: Ensure financial accuracy and compliance by outsourcing bookkeeping, tax preparation, auditing, and financial consulting tasks to industry experts.
Legal Services: Navigate complex legal environments with outsourced contract review, compliance consulting, and legal representation.
Marketing and Advertising Services: Reach your target audience effectively through outsourced digital marketing, SEO, public relations, and brand consulting.
Event Planning Services: Ensure your events are professionally managed by outsourcing event planning services, freeing up your team to focus on other essential tasks.
Payroll Services: Ensure accuracy and compliance with tax regulations by outsourcing your payroll services to experts.
Recruitment Services: Streamline your hiring process and find the right talent by outsourcing your recruitment needs.
Mobile App Development Services: Access experienced professionals to build user-friendly and functional mobile apps for your business.
HR Services: Manage HR tasks efficiently by outsourcing employee benefits, employment law issues, and other human resource functions.
Commercial Cleaning Services: Maintain a clean and healthy work environment with outsourced commercial cleaning services.
Corporate Training Services: Upskill employees and improve their performance by outsourcing high-quality, specialized training.
Small Business Legal Services: Ensure legal compliance and protect your business interests with outsourced legal services.
Business Security Services: Protect your business with professional security and security systems.
Business Travel Services: Streamline business travel bookings and policies with outsourced travel services.
Graphic Design Services: Enhance your brand's image with outsourced graphic design solutions.
Corporate Child Care Services: Boost employee morale and productivity with outsourced childcare services.
Print Services: Access high-quality print products with outsourced printing services.
Technical Support Services: Reduce downtime and improve productivity with outsourced technical support.
Translation Services: Communicate effectively in different languages with outsourced translation services.
Video Production Services: Enhance marketing efforts with outsourced video production services.
Photography Services: Create appealing marketing materials with outsourced photography services.
Market Research Services: Gather valuable market insights with outsourced market research services.
SEO Services: Improve your website's search engine ranking with outsourced SEO services.
Cleaning Services: Maintain a clean and hygienic workspace with outsourced cleaning services.
Pest Extermination Services: Keep your premises pest-free with outsourced pest extermination services.
Waste Management Services: Ensure environmentally friendly waste management with outsourced services.
Printing Services: Access cost-effective and high-quality print products with outsourced printing services.
Real Estate Services: Navigate real estate complexities with outsourced real estate services.
Security Services: Keep your business assets and premises secure with outsourced security services.
Digital Marketing Services: Enhance your online presence with outsourced digital marketing strategies.
Data Entry and Administrative Services: Improve overall productivity with outsourced data entry and administrative tasks.
Data Analytics Services: Make informed decisions with outsourced data analytics.
The Bottom Line
Outsourcing business services offers a myriad of benefits, including improved efficiency, access to specialized expertise, and cost savings. While considering outsourcing, assess your business needs, identify areas requiring expertise, and weigh the potential benefits. By strategically outsourcing specific functions, your business can thrive in a competitive market and focus on its core competencies.
Learn more: The Art of Outsourcing: Leveraging Freelancers and Virtual Assistants for Solopreneurs
---
Are you looking to elevate your business with stunning and professional graphic design, product design, package designs, brand identity, and logo design? Look no further! Our Unlimited Design Service is your ultimate solution for all your creative needs!
Why Choose Our Unlimited Design Service?
🎉 One-Stop Creative Hub: Say goodbye to the hassle of searching for different designers for each project. With us, you'll have access to a talented team of experts skilled in various design disciplines, ready to bring your vision to life.
🚀 Limitless Creativity: Imagine having the power of a dedicated design team at your fingertips! Whether it's refreshing your brand identity, creating eye-catching marketing materials, or designing captivating packaging, our team is ready to turn your ideas into reality, without any restrictions on the number of projects you can submit.
🔥 Unlimited Revisions: Your satisfaction is our top priority. We'll work closely with you to fine-tune each design until it perfectly aligns with your vision. With unlimited revisions, you can rest assured that your project will be a true reflection of your brand.
⏳ Fast Turnaround: Tight deadlines? No problem! We understand the importance of timely deliveries, and our team is committed to providing quick turnarounds without compromising on quality.
💰 Cost-Effective Solution: Outsourcing individual design projects can be expensive. Our Unlimited Design Service offers you a cost-effective alternative, providing exceptional value for your investment.
📈 Elevate Your Brand: Your brand deserves to stand out in a crowded market. Our expert designers will help you create a strong and memorable brand identity that resonates with your target audience, giving your business the competitive edge it needs.
🛡️ Hassle-Free Experience: No need to worry about managing multiple freelancers or coordinating with different agencies. Our streamlined process ensures a smooth and hassle-free experience, leaving you with more time to focus on growing your business.
🌐 Globally Trusted: Join our community of satisfied clients from around the world who have witnessed the transformative power of our design services. Your success is our success!
🎁 Special Offer: For a limited time, we are offering an exclusive discount for new clients! Don't miss this opportunity to revitalize your brand and take your business to new heights!
🤝 Let's Get Started Today!
Don't let your creative projects linger on the backburner any longer. Take the first step towards unlimited design possibilities and success. Visit our website now to learn more about our services and grab your exclusive discount!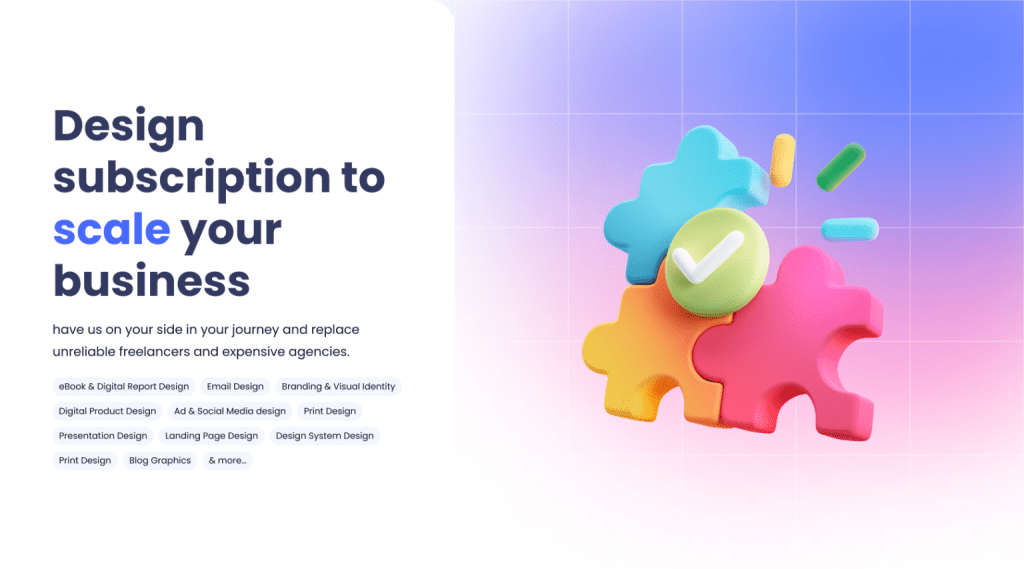 👉 [https://pugo.studio/unlimited-design/]
Unleash the potential of your brand with our Unlimited Design Service. The creativity you've been searching for is just a click away!
---
Outsourcing Business Services FAQs
Is Outsourcing Marketing Services a Good Idea?
Outsourcing marketing services can be a wise decision for businesses, offering access to specialized skills, industry trends, and advanced technologies. It can also be more cost-effective than hiring an in-house marketing team.
What are Examples of Business Services?
Examples of business services include marketing, HR, IT support, legal, cleaning, and customer support services, among others.
What is the Role of Business Service?
Business services provide essential support to businesses, streamlining processes and enhancing overall performance.
Can a Small Business Outsource Services?
Yes, outsourcing services is particularly advantageous for small businesses, offering access to expertise without the need for extensive resources or infrastructure.
What are the Advantages of Outsourcing Business Services? Outsourcing business services can offer several advantages, including cost savings, access to specialized skills and expertise, improved efficiency, scalability, flexibility, reduced time-to-market, and the ability to focus on core business activities.
How Do I Choose the Right Outsourcing Partner? Choosing the right outsourcing partner is crucial for the success of your business. Consider factors such as the partner's industry experience, track record, reputation, expertise, communication capabilities, security measures, and cultural compatibility with your organization.
What Business Services Should I Outsource as a Startup? As a startup, consider outsourcing services that are not your core competencies or require specialized expertise, such as IT support, HR services, bookkeeping, marketing, and customer support.
How Can Outsourcing Improve Customer Service? Outsourcing customer service operations allows businesses to provide round-the-clock support, handle customer inquiries promptly, and maintain high customer satisfaction levels, leading to improved customer relationships and brand loyalty.
Can Outsourcing Help My Business Stay Competitive? Yes, outsourcing can help your business stay competitive by providing access to the latest technologies, specialized skills, and industry insights without the need for significant investments. It allows you to adapt quickly to market changes and customer demands.
What Steps Should I Take Before Outsourcing Business Services? Before outsourcing, conduct a thorough analysis of your business needs, set clear objectives and expectations, research potential outsourcing partners, draft a detailed contract, and establish effective communication channels.
How Can I Ensure Data Security When Outsourcing? Ensure data security by choosing reputable outsourcing partners with robust security measures and compliance with data protection regulations. Implement secure data transfer methods and sign non-disclosure agreements to protect sensitive information.
Can Outsourcing Help My Business Expand Internationally? Yes, outsourcing can facilitate international expansion by providing access to language translation services, localized marketing strategies, international logistics support, and expertise in foreign market regulations.
How Can I Monitor the Performance of Outsourced Services? Monitor outsourced services by establishing key performance indicators (KPIs), regular performance reviews, and transparent communication with the outsourcing partner. Regularly assess the quality of services provided and address any issues promptly.
What Types of Businesses Benefit Most from Outsourcing? Businesses of all sizes and industries can benefit from outsourcing. However, small and medium-sized businesses, startups, and organizations with limited resources often find outsourcing particularly advantageous in optimizing their operations and competing effectively in the market.
---